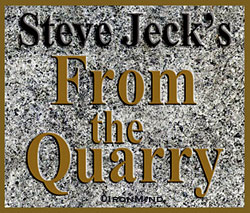 Inspiration from IronMind's man of pen and stone, Steve "Inver Stone" Jeck
Co-author Of Stones and Strength and The Stone Lifter
Work to Become

"We work to become, not to acquire."—Elbert Hubbard 

There's nothing wrong with tangible rewards.  From the laboratory mouse to the Wall Street CEO, having something of value waiting for you at the end of your efforrts is a time-tested guarantor of success.  And yet the highest aim must always be the make-up of the man, not the composition of the medal.  Acquisitions can be lost—souls cannot. 
 ###
Editor's Note: Steve Jeck's books, Of Stones and Strength and The Stone Lifter; and videos, Kviahellan DVD, Jeck on Stonelifting video, and Classic Jeck: The First Works CD, define the world of stonelifting.


Looking for top-drawer training combined with a healthy dose of inspiration, including one-of-a-kind essays by Steve Jeck? MILO: Strength is for you.