IronMind® Red Nail™ Roster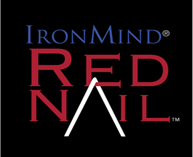 The IronMind Red Nail sets the standard for excellence in short steel bending. In 1995, grip-great John Brookfield started the challenge as the first person recognized as having bent the infamous Red Nail, and it wasn't until 2003, when Gavin Holle did it "with disarming ease," that John's challenge was met. Since then, the Red Nail Roster has grown with the names of others who have successfully stepped up to the fearsome Red Nail and walked away the victor.
Want to get certified?  See our Rules for Bending and Certification page for more details.
Official list of those certified as bending an IronMind Red Nail: Red Nail™ Roster
1995
2003
Gavin Holle

James Smith

Craig Holle

Jay Holle
2004
Eric Milfeld

Steven Weiner

Eli Thomas

Clayton Edgin

Jeff Peterson

Brett Jones

David Morton

Greg Amidon

Zach Passman

John O'Brien

Tommy Heslep

Pat Povilaitis
2005
Michael Grutto

Brett Kerby

Devin Annis

Kevin Bussi

Sean Sparandero

Lyle Barron

Martin Kotte

Malcolm Noland

Anson Castelvecchi

Scott George

Gary "The Brick Man" Brown

Ron Wright Jr.
2006
Jason Deane

Sean Prince

John Beatty

Michael Hadland

Thomas Becker
2007
Aaron Corcorran

William McCaslin

Adam Demnowicz

Jedd Johnson

Wes Peart

Clifford Riggs
2008
Yoshiyuki Takahashi

Teddy Kranis

Adam Glass

David Wigren

Stefan Falke

Paul Knight

Dave Johnson

Rex Hubbard

Mark Vogels

Chad Woodall

Chris Rider
2009
Henrik Nyström

Jim Ricchezza

Mike Krahling

John Retkowski

Darin Heltemes

Dan Cenidoza
2010
Chad P. Rickicki

Chris Child

Carl Donati Jr.

Justin Straussner

Andy Thomas
2011
Trevor Laing

Richard A. Bean

Chris Mason

Sean Cashman

Alex Roberts

EJ Livesey

Alex Graves

Dmitriy Hunkin

Hannes Kainz

John McGrath
2012
Wes Inman

Sergiy Sholom

Tommy Jennings, Jr.

Branden Green

William Johnson

Bader Samir Tayeb

Vadim Leles

Isaiah Hubert

Carl-August Mertz

Jae Uk Mun
2013
Nathaniel Brous
Daniel Reinard
Larson Graff
Sun-gil Gwon
Dae Woong Lee
Mike Sharkey
Tom Scibelli
Delmar L. Carter, Jr.
Dmitriy Lusin
John Wojciechowski
Brian Burgos
Cesare Ricchezza
Robert Miller
Cho Jae-Hun
Tyler Miller
David Whitley
Ruben Piliposyan
Vladimir Abrikosov
Pavel Khatuntsev
Alexander Yuzvik
Alexey Pritula
Woo-seop Lee
Josh O'Dell
2014
John Manna
Brian Geisler
Adam Moyers
Paul McIlroy
Ivan Beritashvili
Aldo Alberico
Rick Giese
Lucas Raymond
Kim Sang-Min
Daniel Splendoria
Durry Becker
Sergey Kulikov
Juha Lehtimäki
Konstantin Filatov
2015
Robert Spindler
Frank Pizzo
Daniel Strauss
Nick Rosendaul
Sergey Sankov
Alexey Vydrin
Daniel Ottlinger
Kirill Vankovich
2016
Anthony Clarino
Mattia Crispino
Arpad Nagy
Aaron Baumann
Brian McShane
Jan Heller
Zsolt Hornyak
Barry Mairs
2017
Joshua Grass
Brett Bracken
Neal Bakerlis
Joefrey Wibrin
Anton Torrella
Matteo Angelin
Don Cummings
Kengo Nakasuji
Kevin Collen
Tanner Merkle
Peter Walentin
Frank DeLuca
James Reese Larkins II
2018
Daniel Graupner
Todd Jones
Jonathan Miller
Gary Tyler Stuart
2019
Csaba Kocsis
Vitalik Sevko
Jamal Salaymeh
Jaden Majensky
Richard Siebels
Stanley Sallee
2020
Joshua Goldthorp
Gilbert Goodman
Florian Faisstnauer
2021
Dominic Crane
Jake Monroe