MILO®: Strength
Strongman · Grip · Olympic-style Weightlifting · Stonelifting · Highland Games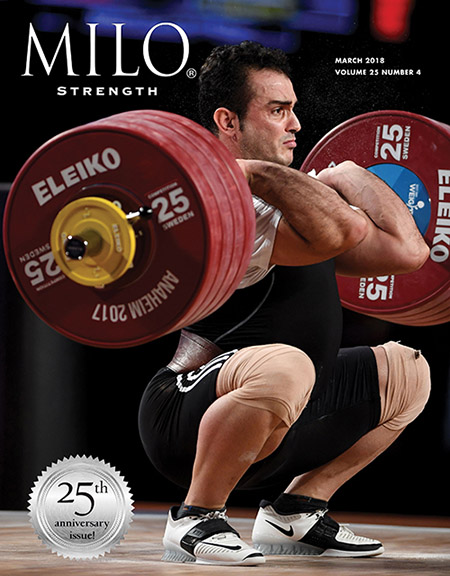 In the 94-kg class at the 2017 Worlds, Iranian Sohrab Moradi jumped to 233 kg on his second atempt, breaking Szymon Kolecki's world record of 232 kg and smashing his own world record in the total by 4 kg (Anaheim, California).
 Previous issues
More issues available in the e-store.
In the March 2018 issue of MILO
Featuring Sohrab Moradi in the 94-kg class breaking the world record with this 233-kg clean and jerk at the 2017 Worlds, the 25th anniversary March 2018 issue also serves up Ice for Injuries?; Life or Death Grip Strength; Muscle Mass, Grip Strength, and Thermodynamics; and the Rolling Thunder Back and Arm Program; plus, the 2018 LA FitExpo: IronMind Viking Visegrip World Record Challenge and 7+ Questions for Dan McKim. That's just the tip of the iceberg, so grab a copy of the March 2018 issue of MILO: Strength for fresh ideas, top talent, inspiration . . . we're serious about strength. Here's the full table of contents.
Be in the know, watch your numbers grow.
First-rate content
MILO is the world's leading publication for strength sports: Olympic-style weightlifting, strongman, Highland Games, throwing, and a lot more. You'll find training, people, contest reports of record, history, and special features.

Top authors

MILO is written by experts in the field, people up to their eyeballs in the strength world . . . we're on the field, in the gym, next to the platform, pressed against the table.
Inspiration and information

MILO has the mix of content and photos to propel you to new levels of training.

World class photos
From the Arctic Circle to London to Los Angeles, MILO brings you to the epicenter of the action with Randall Strossen's stunning photography.
Features you'll enjoy in MILO:
Captains of Crush Grippers:  Who's New?
Meet the latest gripsters to have been certified on the CoC grippers.

7 Questions
MILO asks strength world notables the questions you've always wanted to ask.

Athlete interviews and profiles
Meet the biggest names in the strength world:  who they are, how they train, how they achieved success.
From Our Archives
Read the story behind a selection from Randall Strossen's photo archives, the strength world's premier collection over the past 25 years.

Action at the apex
Relive the biggest contests in the strength world:  from the Olympic Games, to world championships, to World's Strongest Man.