IronMind® Red Nail™ and Gold Nail™
How to Certify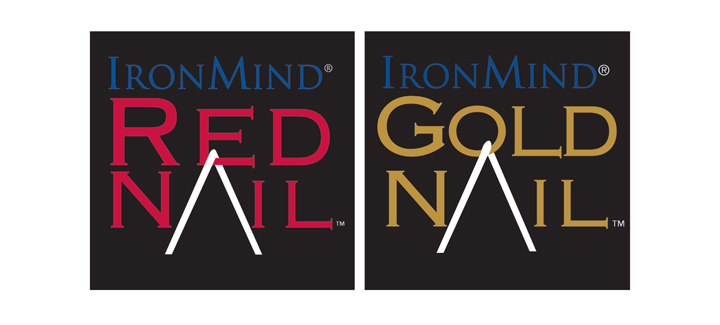 You've just mastered this benchmark short bend on IronMind's fearsome Red Nail or Gold Nail according to our Rules for Bending and you want to be certified. What do you do? Use the checklist below to help guide you:


Review the Rules for Bending to confirm you are bending the nail under proper conditions.


Wait until you have mastered the Red Nail or Gold Nail, so that when you attempt to bend the nail in front of your referee, all will go smoothly.

 


Contact IronMind Enterprises, Inc. and let us know that you are ready to be certified.

IronMind will select a referee in your area to witness and verify the bend. We will then put you in contact with your referee to arrange a mutually convenient time to get together. In order to maintain the integrity and impartiality of the judging process, please do not line up your own referee. 

Confirm your scheduled certification attempt date with IronMind.

IronMind will then send your referee three Red Nails or three Gold Nails for your attempt: you will bend at least one of the Red Nails or Gold Nails according to the Rules for Bending. 




Bring the necessary paperwork to the meeting with your judge.

Print out a copy of the

Rules for Bending and Referee Form

and take it with you to your official attempt. The referee will complete the form and return it to us.  

 




Send a photo of yourself and a short bio to IronMind.

A waist-up photo of yourself, with or without your bent Red Nail or Gold Nail, is preferred.  For your bio, please include your age, weight, and height; where you live; what your work and interests are; some information about your training and goals; and any related accomplishments you'd like to mention.


 

Thank your referee.

Make arrangements to meet your referee at a time and place that is convenient for him/her. Remember, he/she is taking his/her own time to help you get certified. It should go without saying that civil behavior and good sportsmanship are expected—a serious breach of protocol is the basis for suspension or disqualification at any time. 


 

Return your required materials to IronMind within 72 hours of your attempt.

We require that all certification materials be sent to IronMind within 72 hours following your attempt, unless prior arrangements have been made. Your photo and bio should be sent by you and the referee's form is to be sent by the referee.



IronMind requires that all of the criteria noted above be met before completing the certification process. Upon receiving your completed paperwork, we will make our decision and announce it in the IronMind News at www.ironmind.com,and your name will be added to the Red Nail Roster or the Gold Nail Roster—a list of the most highly-regarded benchmark short benders in the world. We'll also announce your accomplishment in the next issue of MILO: A Journal for Serious Strength Athletes; and we'll send you an official Red Nail T-shirt or Gold Nail T-shirt and certificate that prove your mettle.
Rules for Bending a Red Nail or a Gold Nail
Bending nails is a fun and effective way to strengthen your grip and demonstrate your wrist, hand, and upper body strength. Please use caution when bending nails, and always train with safety and good sense first and foremost in mind; your hand health should always be your primary consideration.
There are several recognized methods for legitimately bending an IronMind Red Nail or a Gold Nail, but all are unbraced.  For example, you can bend the Red or Gold Nail with your hands at: 
waist level, bending the nail downward into a U
chest level, bending the nail downward into a U
head or chest level, bending the nail downward into a U
Other variations of these are acceptable, so long as:  
 You are bending an authentic IronMind Red Nail™ or Gold Nail™ that has not been modified in any way.
 Only genuine IronMind Hand Pads are used; they cannot be modified in any way. No accessories (such as rubber bands) can be added to the pads and used during the bend.
Ordinary chalk (magnesium carbonate) may be used on the bender's hands, but nothing else is permitted (liquid chalk, for example, is specifically disallowed).
 No part of the bender's arms or hands may touch the body below the waist level.
 The nail is bent into a U shape in less than one minute with the legs of the nail spread no more than 2 inches at the completion of the bend.
 The bender is not allowed to use any wraps, tape or any other supporting material on his body.
WARNING:
As John Brookfield has noted more than once, bending (or any other grip exercise or feat of strength) can be dangerous if proper technique is not used, and accidents are always possible. In the case of bending nails, for example, directly pressing the points or ends of the nails into the palm of the hand can cause severe nerve damage to the soft tissue, which may be irreversible, and you might puncture your hand. Be sensible in whichever bending style you use and always follow the generally accepted principles of safe training. If you have any questions about what you are doing, seek the advice of someone with the appropriate expertise.