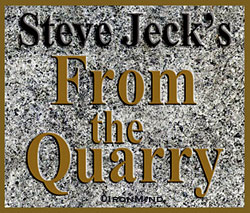 Inspiration from IronMind's man of pen and stone, Steve "Inver Stone" Jeck
Co-author Of Stones and Strength and The Stone Lifter
To the person who does not know where he wants to go there is no favorable wind
.—Seneca


We spend a lot of time making excuses:  If I just had more of this; if I just had less of that; if this didn't hurt so much; if I had only started sooner; when the real cause for our lack of progress is we lack a goal meaningful enough to inspire action.
If we'd just point our vessel seaward and raise the mainsail, then perhaps some of our hot air would at least blow us out of port!


 ###
Editor's Note: Steve Jeck's books, Of Stones and Strength and The Stone Lifter; and videos, Kviahellan DVD, Jeck on Stonelifting video, and Classic Jeck: The First Works CD, define the world of stonelifting.


Looking for top-drawer training combined with a healthy dose of inspiration, including one-of-a-kind essays by Steve Jeck? MILO: Strength is for you.