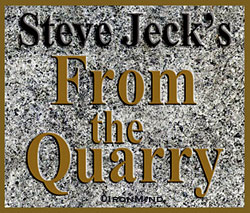 Inspiration from IronMind's man of pen and stone, Steve "Inver Stone" Jeck 
Co-author Of Stones and Strength and The Stone Lifter
What Do You Love?


"To discover the character of any people, we have only to observe what they love."—Saint Augustine
Augustine wrote in his City of God that there were two types of people: Those who love God even to the contempt of self and those who love self even to the contempt of God. The bottom line: Understanding one's ultimate origin, identity, and destination should vitally inform the way in which one lives (and I do not think our beloved Bishop of Hippo would mind me adding, ". . . and the way one lifts!").
 ###
Editor's Note: Steve Jeck's books, Of Stones and Strength and The Stone Lifter; and videos, Kviahellan DVD, Jeck on Stonelifting video, and Classic Jeck: The First Works CD, define the world of stonelifting.


Looking for top-drawer training combined with a healthy dose of inspiration, including one-of-a-kind essays by Steve Jeck? MILO: Strength is for you.