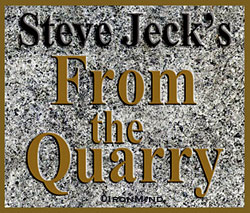 Inspiration from IronMind's man of pen and stone, Steve "Inver Stone" Jeck
Co-author Of Stones and Strength and The Stone Lifter
 The Cost of a Thing
"The cost of a thing," says Thoreau, "is the amount of what I call life which is required to be exchanged for it, immediately or in the long run."
Before the arrival of the electron microscope and the atomic age, scientists placed the raw, organic value of a man at about thirty bucks.  Today, it has been estimated that if the electron energy of our hydrogen atoms alone could be harnessed, our fair market value would be more like eighty billion dollars!
What's your dream costing you? 
 ###
Editor's Note: Steve Jeck's books, Of Stones and Strength and The Stone Lifter; and videos, Kviahellan DVD, Jeck on Stonelifting video, and Classic Jeck: The First Works CD, define the world of stonelifting.


Looking for top-drawer training combined with a healthy dose of inspiration, including one-of-a-kind essays by Steve Jeck? MILO: Strength is for you.