Steering Straight and Clear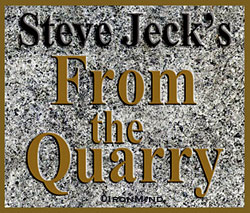 Inspiration from IronMind's man of pen and stone, Steve "Inver Stone" Jeck 
Co-author Of Stones and Strength and The Stone Lifter
Steering Straight and Clear

"The larger a ship and bulkier its cargo, the more it needs a skillful steersman."— Desiderius Erasmus
Anyone who has worked as a bouncer ("Emotional Control Technician" being the title I preferred) nods approvingly at this insight from the brilliant, 16th-century Dutch scholar Erasmus. It seemed it was always the little guys with something to prove who started all the fights. If you've been blessed with battleship bulk, do not navigate through life with a tugboat temperament.
 ###
Editor's Note: Steve Jeck's books, Of Stones and Strength and The Stone Lifter; and videos, Kviahellan DVD, Jeck on Stonelifting video, and Classic Jeck: The First Works CD, define the world of stonelifting.


Looking for top-drawer training combined with a healthy dose of inspiration, including one-of-a-kind essays by Steve Jeck? MILO: Strength is for you.