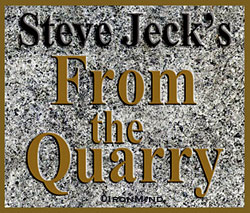 Inspiration from IronMind's man of pen and stone, Steve "Inver Stone" Jeck 
Co-author Of Stones and Strength and The Stone Lifter
Heart vs. Hand


"For the mind grows by contact with things heavenly, and draws into itself something from on high."—Seneca
Seneca, a Roman senator who lived during the time of Jesus Christ, lived in the right place and at the right time if power and fame were all that he sought. And yet, he somehow intuited that we are enriched the most by what we can grasp with the heart, not grab with the hand.
 ###
Editor's Note: Steve Jeck's books, Of Stones and Strength and The Stone Lifter; and videos, Kviahellan DVD, Jeck on Stonelifting video, and Classic Jeck: The First Works CD, define the world of stonelifting.


Looking for top-drawer training combined with a healthy dose of inspiration, including one-of-a-kind essays by Steve Jeck? MILO: Strength is for you.