Grip Training for Golfers
Take control of your game
A strong grip is essential to your golf swing; it's no accident that golf pros have a stronger crushing grip than amateurs. Grip strength allows for better club head control, a relaxed body throughout the swing, and more consistent body mechanics.
Don't be the guy on the first tee with a death grip on the club taking three mulligans while carts back up to the clubhouse. Increased grip strength will help you grip the club loosely and focus on your mechanics instead of worrying about holding onto the club.
While it's well-known that squeezing (flexor training) a Captains of Crush or Zenith gripper will greatly increase your grip strength, the benefits of extensor training are often overlooked. In golf more than almost any sport, extensors are vital to performance. Not only do they provide muscle balance and decrease the risk of injury, they give you the steady, light grip you need for a consistent, easy swing.
Expand-Your-Hand Bands isolate your extensors, counteracting the squeezing to aid muscle growth, help you achieve muscle balance, and prevent, eliminate or reduce pain from tennis or golfer's elbow, tendinities, carpal tunnel syndrome, and related forms of overuse and abuse.
Whether you are recovering from injury or want to improve your game, IronMind offers two affordable and effective packages that have everything you will need for superior grip strength and hand health: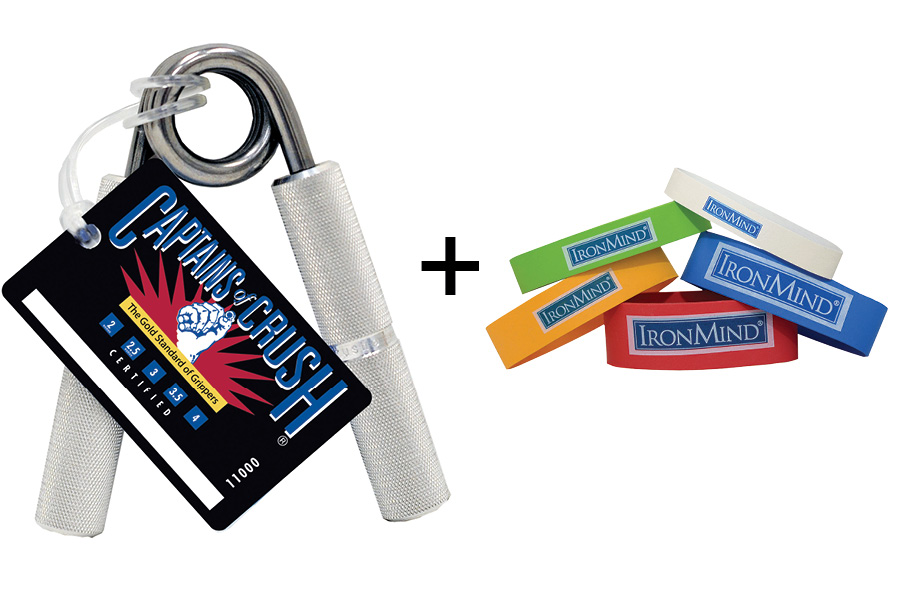 Two-way CoC Grip Set
Captains of Crush grippers + Expand-Your-Hand Bands = the perfect combination for game-changing grip strength and muscle balance. Work both your flexors and extensors for maximum hand strength and health.