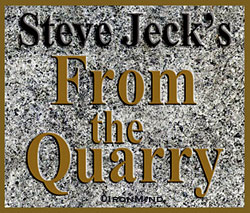 Inspiration from IronMind's man of pen and stone, Steve "Inver Stone" Jeck 
Co-author Of Stones and Strength and The Stone Lifter
Body and Soul Together


"There are two ways of life whereby God Almighty instructs us . . . the active and the contemplative."—Gregory the Great
Gregory, a 6th-century pope and doctor of the Catholic Church, reflected much upon the teachings of Plato and Aristotle and all they had to say about finding that virtuous mind–body harmony. The long and short of it? God gave you a body, He also gave you a soul—and they really do work best together!
 ###
Editor's Note: Steve Jeck's books, Of Stones and Strength and The Stone Lifter; and videos, Kviahellan DVD, Jeck on Stonelifting video, and Classic Jeck: The First Works CD, define the world of stonelifting.


Looking for top-drawer training combined with a healthy dose of inspiration, including one-of-a-kind essays by Steve Jeck? MILO: Strength is for you.