Simon Stewart Certifies on Crushed-To-Dust! Challenge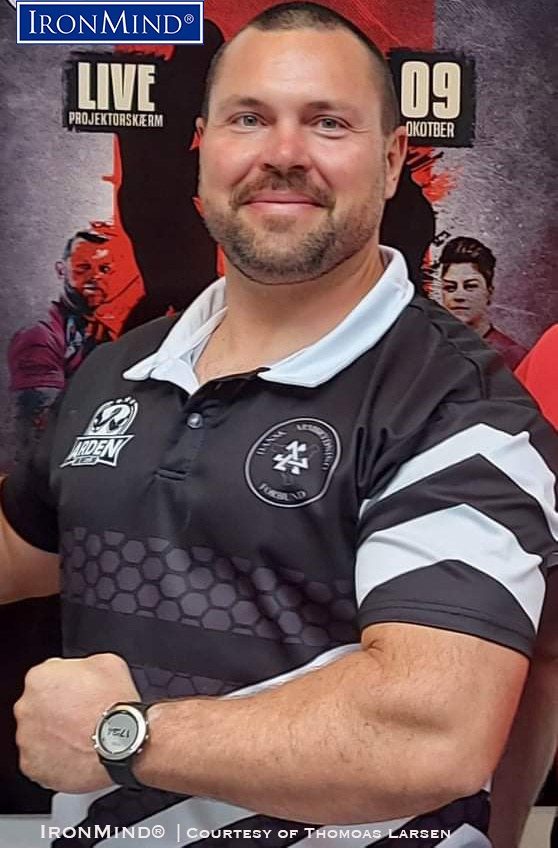 Simon Stewart, strength and conditioning coach for elite Danish sailors, has been certified on the Crushed-To-Dust Challenge, proving his all-around superior grip strength.
The Crushed-To-Dust Challenge has three elements:
• closing a Captains of Crush (CoC) No. 2 gripper
• lifting 90 kg on the IronMind Rolling Thunder
• lifting 20 kg on the IronMind Hub
Simon is 41 years old, 181cm, 120kg, and is originally from Carlton, Minnesota, but now lives in Denmark. His hobbies include "strength training, grip competitions, bending steel, riding motorcycles, traveling and enjoying family activities with my lovely wife and 2 children," said Simon. "I'm an American citizen. Danish resident for 18 years. I compete for Denmark in grip and steel bending."


"My proudest accomplishments in grip would have to be winning the World of Grip, Kings Shield #2 competition, becoming the #1 ranked steel bender in the world in 2021, and winning the European grip championship for heavyweights in 2019.
"I am blessed with a naturally strong grip, big hands, and I really enjoy grip training and competing. I'm always using grip dominant exercises in my strength training so I'm always training grip.
"My favorite grip exercises are Rolling Thunder pull ups, Axle deadlift, CoC [Captains of Crush] grippers, and pinch grip training.
"When preparing for a grip competition I train as often as possible work up to heavy singles on the competition events.
"My future goals include getting certified on the No. 3 and 3.5 CoC grippers, and theRed Nail certification, and competing in grip and steel bending competitions as often as possible.
"I would like to thank Thomas Larsen for officiating my Crushed-To-Dust certification attempt."
Here's a video of Simon Stewart's official attempt on the Crushed-to-Dust Challenge.
Congratulations, Simon: it's official and your name has been added to the official Crushed-To-Dust certification list.
###


You can also follow IronMind on Twitter, Instagram and on Facebook.
Want to talk grip, strongman, weightlifting . . . everything strength? Visit the IronMind Forum.