NAS/ASC Takes Amateur Strongman Global
Bill Holland began North American Strongman as a grassroots organization, and since Bill handed the reins over to Dione and Willie Wessels, the organization has grown tremendously, first in the USA, and now, internationally as well.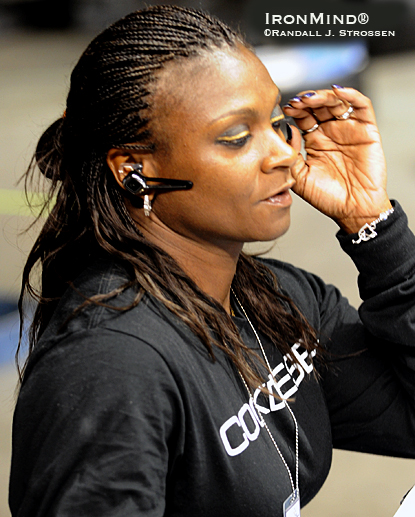 Plugged in and ready to do the scorekeeping at the recent Super Series Mohegan Sun Grand Prix, Dione Wessels works across strongman federations. IronMind® | Randall J. Strossen photo.



This year, in a milestone event, Dione Wessels brought amateur strongman to the Arnold for the first Amateur Strongman World Championships—with 49 athletes and 19 countries represented, Wessels told IronMind®—giving an indication of the international interest in amateur strongman.

The winner of that contest—Mike Jenkins—got his pro card and an invitation to the 2011 edition of the Arnold professional strongman contest.

Wessels' pro strongman organization, American Strongman Corporation (ASC), has now formed "global partnerships with several nations to promote a worldwide amateur to pro system," Wessels said, with the following countries listed as cooperating, according to an official ASC press release: Latvia, Poland, Austria, Australia, Germany, UK, Iceland, Russia, Sweden, Norway, Canada, South Africa, Ukraine, Georgia, Serbia, Lithuania, Spain, Ireland, Hungary, along with the USA.

"UK's Rob Davies of the UKSA will hosts the UK qualifiers and will have the first UK qualifier for the amateur event in June; there will be two Australian qualifiers held in June with Joel Malone, and another with Bill Lyndon. Poland's Czuba Przemysław will host the Poland Open Championships as one of the qualifiers at the end of July as well as Adam Darázs of Hungary will host the European Strongest Man 2010 Open qualifier in Mid July as well," according to the press release.

"This is the same system we started with NAS in 2002/2003," Wessels told IronMind®. "Not many people supported it then or believed in it, but now others are seeing that the system works. The grass roots of the sport are what grow the sport. There are many athletes in other countries that do not get a chance to compete on a larger platform. Most of the top athletes in the USA started with this system: Derek Poundstone, Travis Ortmayer, Dave Ostlund, new comer Andy Vincent, to name a few. The up-and-coming athletes are young and hungry and they want to compete on that higher platform.

"It goes unrecognized, but as soon as new athletes emerge in the USA, those that promote the larger platform events contact those new athletes that emerge from the system (NAS to American Strongman), although many other organizations discredit American Strongman Corporation or do not recognize us as a qualifying system," said Wessels.