Mas Wrestling USA: Sizzling Summer Schedule
"This is taking OFF!" Mas Wrestling USA president Odd Haugen told IronMind today, sharing a summer schedule that will bring the ancient sport of mas wrestling to multiple venues around the United States.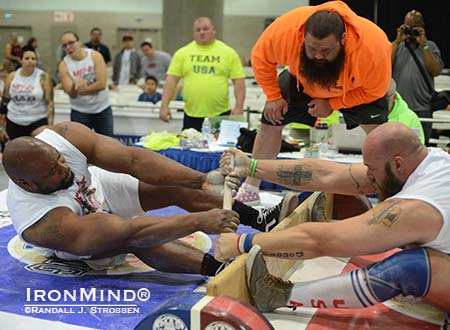 Mark Felix (left) and Clay Edgin (right) compete in the mas wrestling event run by Odd Haugen at the Los Angeles Fit Expo earlier this year. Mark Felix is a 9-time World's Strongest Man competitor and a former world record holder in both the Rolling Thunder and the Captains of Crush Silver Bullet Hold. Clay Edgin's credits in the grip strength world include certification on the Captains of Crush® No. 3 gripper, the IronMind® Red Nail and the Crushed-To-Dust® Challenge. Not to be ignored is referee Robert "OB" Oberst, a World's Strongest Man competitor who is also making a name for himself as a top mas wrestler. IronMind® | Randall J. Strossen photo

Haugen calls mas wrestling, "a true test of functional strength: grip, back, legs—your whole body goes into it" and Mas Wrestling USA offers competitions whether you are a man or woman, young, old, big, small, novice or aiming for the world championships.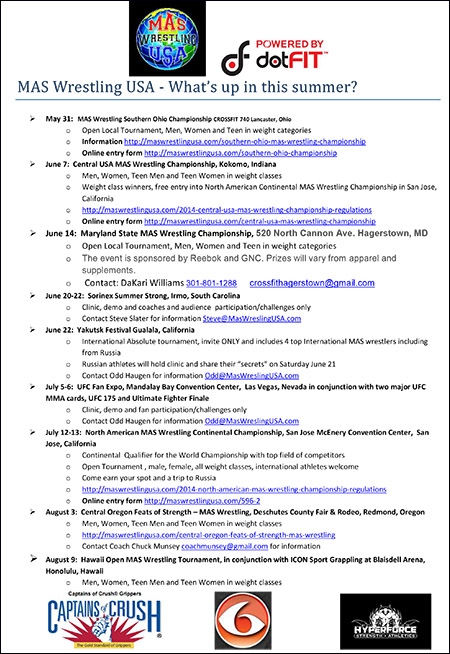 What's up this summer with Mas Wrestling USA? A lot! IronMind® | Courtesy of Mas Wrestling USA


###


Want to talk strength? Join the IronMind Forum.

You can also follow IronMind on Twitter and on Facebook.