Alexey Tyukalov Dominates Visegrip Viking Competition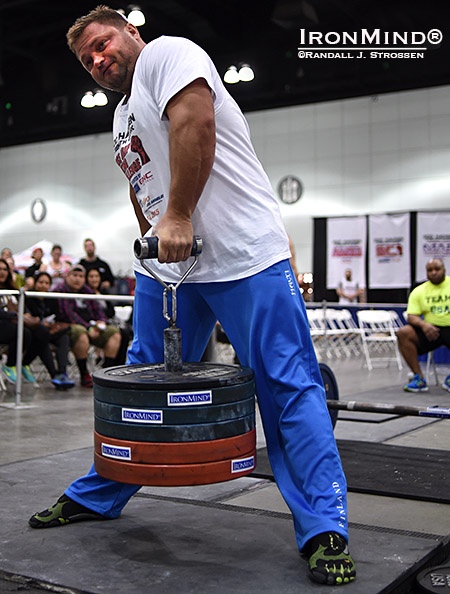 Russian grip strength standout Alexey Tyukalov made short work of the 2015 Visegrip Viking competition at the Los Angeles FitExpo yesterday—winning all four events with ease.

Tyukalov is the current world record holder on the Rolling Thunder, a staple in top drawer grip competitions, and he handled the 118 kg needed for the win with every indication of having much more in the tank—taking no more attempts when the Odd Haugen, the only other competitor not eliminated by that point, missed the weight.

It was the same pattern on the Apollon's Axle double overhand deadlift—Haugen missed 220 kg, Tyukalov made it easily and took no more attempts.

On the Captains of Crush (CoC) Silver Bullet, it looked as if the audience might be treated to a world record breaking performance by Alexey Tyukalov, but at a little over 48 seconds, the handles of the Captains of Crush No. 3 gripper opened, the Silver Bullet fell and while he'd overwhelmingly won the event, Tyukalov was about 6 seconds shy of the current record.

Last up was the Viking Fishing Pole, which involves raising a heavy "fishing pole" by winding it up using an IronMind wrist roller set up on Vulcan Racks—this is known as a punishing event and once again Tyukalov decimated the field.

If Alexey Tyukalov is sounding like Russia's version of Mike Burke, get this: after the competition (with no additional warmup :-), Tyukalov asked if he could try certifying on the Captains of Crush  No. 3.5 gripper, and while he was close it was no cigar, his referee, Mike Corlett, was fully confident had Tykulov not just done the Viking Fishing Pole, he'd have succeeded.


                                   ###



Want to talk strength?  Join the IronMind Forum. 

You can also follow IronMind on Twitter and on Facebook.