ASC at the Arnold, Then a Pro-Am in Georgia
IronMind checked in with Dione Wessels, asking for a preview of first quarter strongman action from NAS and ASC.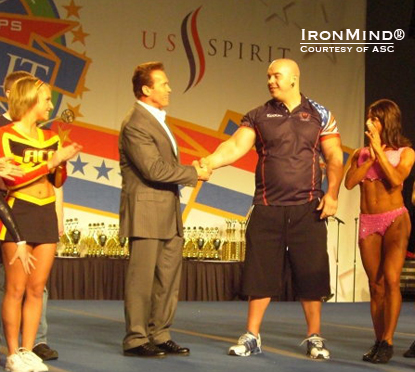 Mike Jenkins, 2010 Amateur Strongman World Champion, meets Arnold Schwarzenegger. Photo courtesy of ASC.


"The ASC 2011 season kicks off in Columbus, Ohio with the 2nd Annual Arnold Amateur Strongman World Championships on March 4th & 6th, 2011," Wessels said. "This year the World Championships not only brings more top level athletes from across the world, but also more countries. We have added France's Dro Didier, Spain's Juan Heredia, and Bulgaria's Zdravko Zanev along with new and repeating athletes in repeating countries from last year. ASC has worked with several countries this year in establishing a qualifier system similar to what we have had here in the United states since 2002.

Mike Jenkins, the 2010 Arnold Amateur Strongman World Champion will be competing on the main stage with some of the world's best in the sport," Wessels said, referring to the Arnold's professional strongman contest.

"On the heels of the Amateur World Championships, ASC will have the first combined Pro-Am in Columbus County, Georgia (Augusta) on March 26, 2011. The Southern Strongman Challenge will be held in conjunction with a larger RV and Boat show at Lake Thurmond. The Open and 105k pro-strongmen will be competing for a prize purse of a minimum of 10k alongside the amateurs who will be competing for his ASC pro card in both the open and 105k division.

"One different twist we have made to the contest is including event win money in each event whether it is an amateur or professional athlete in both divisions. The events will include the Car Deadlift, Log clean and press for reps, Hussefeldt stone, Atlas Stones, and the new Last Man Standing Yoke Walk."

For full details, please visit the official ASC website.

###


Want to comment on this article or just want to talk strength? Join the IronMind Forum!

You can also follow IronMind on Twitter.