2021 Underground Grip Gathering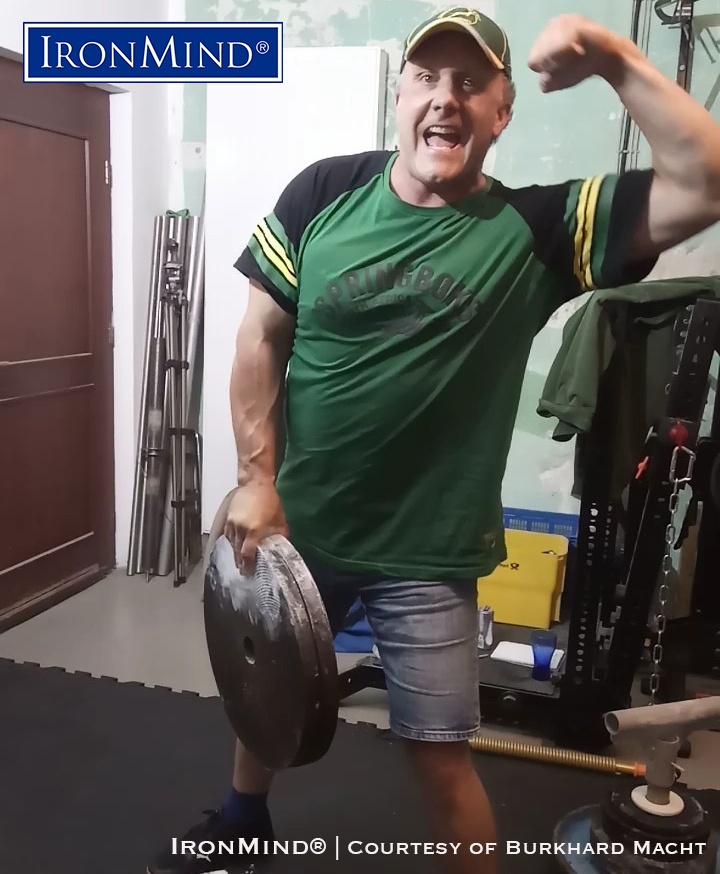 Burkhard Macht told IronMind this year's "Underground Grip Meeting was a great experience, with some very good performances: having only a small group of athletes did not harm!
"One of the best lifts were Stefan Falke's Fatman Blob lift! Stefan—being here for the first time —succeeded with this part of the "Keys to Grip Mastery" as the first and only man. Nobody—not even Gabriel Sum did succeed in the last years. But Martin Ressel is close to lifting this beast to lockout as well.

"Stefan also pinch gripped the two 20kg shallow York plates as part of the "Keys" in a very superior way, holding them at the top and flexing his biceps!


"Martin Ressel was really close on finishing the double Inch deadlift, and was able to do a double Blob50 deadlift to be the fifth German to do this feat.


"Florian Kellersmann was able to lift the Blob50 and two Eleiko competition plates in a pinch grip style, and take them for a few steps!


"Martin Kotte was also able to pinch lift those Eleikos! By the way those plates are extremely thin—not for everyone as I have to admit—feels brutal on the thumbs! Besides those major feats, we did a lot of other combo lifts with different Hubs and three 10kg York plates.


"All in all a very exhausting weekend but it was all worth it! We are all looking forward to 2022!," Macht reported.
Explaining the event, Macht said, "The Underground Grip Meeting started in 2018 as a private annual event.
 Our focus are the classic grip feats like the IronMind No. 3 gripper, the Inch dumbbell, the Blob, the IronMind Axle and different kinds of plate pinch and hub feats with classic plates.


"We feel that those classics come up short in a regular grip competition. In an attempt to keep the interest high we invented 'The Keys to Grip Mastery' as a all-round grip challenge on a very high level. To date, nobody has been able to do all feats, let alone on one day!


"An important aspect of this meet is the absence of any competitive pressure. No one is forced to do certain events to be invited. Every guest can prepare feats he would like to show and do his best.


"In addition to that, the exchange of training ideas and sharing knowledge about iron game history is an important part as well."
Here's a link to The Keys to Grip Mastery video.
###



You can also follow IronMind on Twitter, Instagram and on Facebook. 


Want to talk grip, strongman, weightlifting . . . everything strength? Visit the IronMind Forum.