Mariusz Pudzianowski Disqualified from 2004 World's Strongest Man Contest
IronMind has just received official word that Mariusz Pudzianowski has been disqualified from the 2004 World's Strongest Man contest "for a breach of the new IFSA Strongman Health Policy."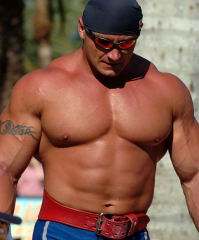 Mariusz Pudzianowski at the 2004 World's Strongest Man contest (Paradise Island, Bahamas). IronMind® | Randall J. Strossen, Ph.D. photo.
The official statement ended speculation based on what had been unconfirmed but very substantial rumors circulating in the strongman world.

IFSA has, "applied the following disciplinary measures:

A) A disqualification of Mr. Pudzianowski's results in the World's Strongest Man 2004 including forfeiture of all prize money, ranking points, and associated recognition.
B) A one-year suspension from competition."

The official statement also noted, "The athlete has agreed to enter into a rehabilitation program administered by IFSA Holding's medical team that starts 20th of November 2004," but goes on to explain that, "In recognition of his full and immediate co-operation with IFSA Holdings and its medical team, as well as in view of his previously clean record, the ban may be lifted earlier . . . ."