Dancing With The Stars: Magnus Samuelsson Makes the Finals
Sure, he's a World's Strongest Man winner as well as someone who who closes the No. 3 Captains of Crush® Gripper with consummate ease and has "no fear of the No. 4," but for a guy who'd "never taken a dance step before this," Magnus Samuelsson has done himself proud. On Friday he's in the finals of Dancing With The Stars.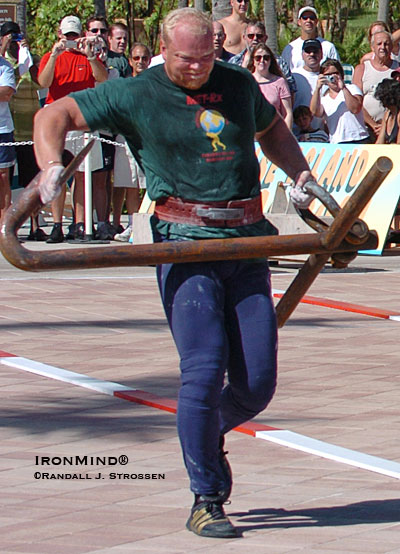 Considering that he's about two meters tall, weighs around 150 kg and is used to moving heavy objects at will, we don't think it's likely that anyone will call Magnus Samuelsson "Twinkle Toes," even given his success on Dancing With The Stars. IronMind® | Randall J. Strossen photo.


"It's been a long road," Magnus Samuelsson told IronMind®, "four months of 4 or 5 hours a day practicing. It's going to be a relief to get back in the gym."

But it hasn't been all bad, as Magnus said he is getting tremendous exposure from being in this contest, not to mention his success.

"Sweden has a population of 8 million people and each week 2 million watch this show. It's like winning World's Strongest Man every week."

And speaking of winning World's Strongest Man, don't rule out the possibility of seeing Magnus Samuelsson active in strongman on a selective basis later this year.