dotFit WSM Super Series Bucharest Grand Prix
dotFit President and Chief Operating Officer Odd Haugen released the official WSMSS Bucharest Grand Prix contest announcement and start list to IronMind® today, along with an invitation to the press conference next week.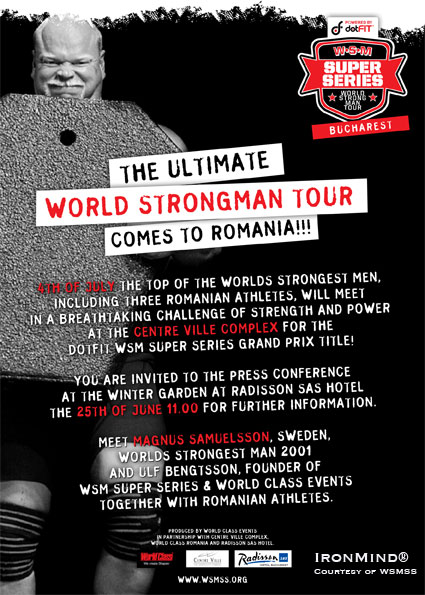 dotFit and Super Series are bringing big-time strongman to Bucharest, Romania. IronMind® | Artwork courtesy of WSMSS.

Combining the star power of two former World's Strongest Man winners with some of the most talented new names on the professional strongman circuit, this Super Series event is being billed as part of "the ultimate world strongman tour," and it is the long awaited 2009 season opener for Super Series.

Here is the official list of competitors:

Rolands Gulbis - Latvia
Brian Shaw - USA
Nick Best - USA
Kevin Nee - USA
Marshall White - USA
Janne Virtanen - Finland
Rikard Skog/NSM - Norway
Johannes Arsjo - Sweden
Mircea Parjol - Romania
Paul Parjol - Romania
Tarmo Mitt - Estonia
Stojan Todorchev-Bulgaria

The competition is set for July 4. Stay tuned for more details.