World's Strongest Man: Trailer and CBS Sports Broadcast Schedule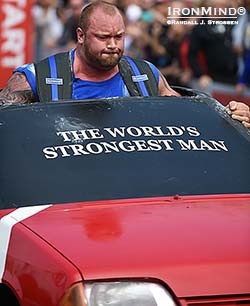 Speaking about World's Strongest Man 2014, IMG Producer Tim Kowalski told IronMind, "We couldn't have asked for a better competition in Los Angeles," so get ready to enjoy the action on CBS Sports.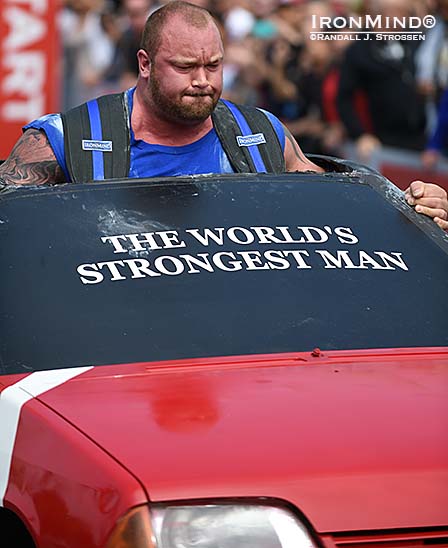 They carry cars, don't they? The 2014 World's Strongest Man contest begins its premiere broadcasts on CBS Sports on June 4. IronMind® | Randall J. Strossen photo


"To start with, we had a variety of shooting locations that all provided great backdrops for our events. The action in the Qualifying Round was dramatic and the Final was just ridiculously good.

"I don't want to give anything away about the Final for anyone who wasn't on-site, but it was the planet's best strongmen producing unbelievable performance after unbelievable performance. "We've had other Finals that were competitive and featured great action but we really haven't ever seen anything like this. We can't wait for everyone to see the whole series," Kowalski said, as he released the official World's Strongest Man 2014 trailer.

Here the schedule for the shows, on CBS Sports:


Wed 6/4
Episode 1: 9:00 PM ET
Episode 2: 9:30 PM ET

Wed 6/11
Episode 3: 9:30 PM ET

Wed 6/18
Episode 4: 9:30 PM ET

Wed 6/25
Episode 5: 9:30 PM ET

Wed 7/9
Episode 6: 9:30 PM ET

Wed 7/16
Episode 7: 9:30 PM ET

Wed 7/23
Episode 8: 9:30 PM ET

Wed 7/30
Episode 9: 9:30 PM ET

Wed 8/6
Episode 10: 9:30 PM ET

Wed 8/13
Episode 11: 9:30 PM ET (90 mins)

###

Want to talk strength? Join the IronMind Forum.

You can also follow IronMind on Twitter and on Facebook.