Zydrunas Savickas says "Yes" on World's Strongest Man
As the 2009 World's Strongest Man contest draws nearer, the big talk is about the big three in the strongman world: Mariusz Pudzianowski, Zydrunas Savickas, and Derek Poundstone.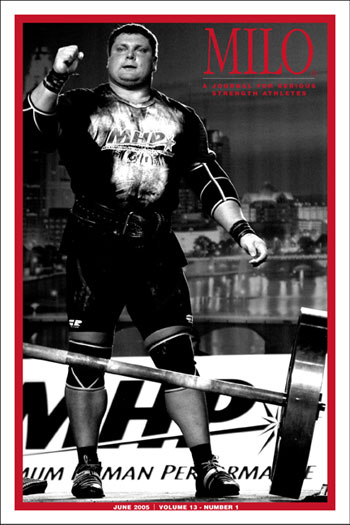 Zydrunas Savickas has more than put his stamp on the world's major strongman contests - next up for six-time Arnold strongman champion is the 2009 World's Strongest Man contest. IronMind® | Randall J. Strossen photo.

First of all is the question of who's going to show up, and at IronMind® our guess is that as long as he is above ground and vertical, Derek Poundstone will be in Malta - he's zeroed in on adding the World's Strongest Man title to his collection of major strongman titles.

Next to consider is Zydrunas Savickas because as IronMind® has written the obvious over and over again, Zydrunas Savickas is the de facto strongest guy on the professional strongman circuit. Yet, he hasn't won the title of the contest that many think describes him to a T: World's Strongest Man. For a few years, when IFSA split from the WSM world, Zydrunas Savickas was effectively locked out of World's Strongest Man, but that's all history now and with nearly everyone playing nice at the moment, there are no artificial barriers keeping some of the world's top strongmen from competing in WSM.

"Yes," Zydrunas Savickas told IronMind®. I am going for sure to WSM." And with the events now out in the public domain, IronMind® asked the Big Z what he thought of them.
"Normal for World's Strongest Man," Savickas said and rather than boasting about how he planned to punch the performance levels to another galaxy, he modestly said "[we] will see after one month" if those events were good for him.

Don't think this implies nonchalance or anything less than a maximum effort, however: "I always want to win competition, whether it's a small contest or it's the Arnold Classic, or WSM. I always try to do my best. It's my goal," Savickas said.

Explaining further, the man who sometimes seems to break strongman world records at will said, "If I win a competition with bad results in events I will be not happy. If I lift very good results, but lose the competition, I will be happy with my results. My goal in this sport is to lift big weights."

Looking ahead of WSM 2009 for a moment, IronMind® asked Zydrunas Savickas whether he planned to compete in the Arnold strongman contest next year and once again the level-headedness of the man who can move near-mountains was apparent: "I have plans to compete next year for Arnolds, but first I must finish this season, have some rest and then we will see."

There's a thing called super-itis, which is the swagger that can frequently accompany the physically large and mighty, but be cautious if you try to apply that label to Zydrunas Savickas - asked if he had anything he wanted to say to strongman fans, he had a very un-WWE-like reply: " Thank you for loving this sport!"

So there he is - calm and purposeful, no braggadocio and no bluff . . . but when you're as strong as Zydrunas Savickas and you say, "My goal in this sport is to lift big weights," that should send a clear message to the other World's Strongest Man competitors.