Zydrunas Savickas Wins Strongman Champions League - Hungary
Maintaining his momentum, Zydrunas Savickas won the Strongman Champions League (SCL) competition in Hungary this past weekend - two weeks after winning the SCL-London event held in Wembley Arena.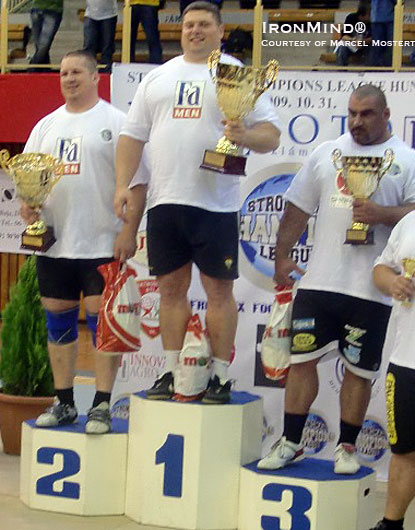 Here's the podium at Strongman Champions League-Hungary. (left to right) Andrus Murumets, third place, Zydrunas Savickas, first place, and Ervin Katona (third place). IronMind® | Marcel Mostert photo.


"Although he had a bad start in the first event with a 5th place, and a 2nd place in the second event, he started the engine really at the third event by winning the yoke race, 420 kg over 25 meters in the fastest time," SCL cofounder Marcel Mostert told IronMind®.

"Surprisingly enough, Ervin Katona won the Viking press, 155 kg, beating Zydrunas by 2 reps, in a new world record of 18 reps. Nobody ever has done this. It is Ervin's first world record ever and he said that he is very happy with it," Mostert said.

Here are the top ten:

1. Zydrunas Savickas - Lithuania, 54 points
2. Andrus Murumets - Estonia, 49
3. Ervin Katona - Serbia, 41
4. Alexander Klushev - Russia, 36.5
5. Agris Kazelniks - Latvia, 32
6. Jimmy Laureys - Belgium, 28
7. Golier Branislav - Slovakia, 27
8. Gabor Forgacs - Hungary, 21.5
9. Aleksandr Ilin - Ukraine, 20
10. Gregor Stegnar - Slovenia, 13.5

The 2009 Strongman Champions League final will be in Kiev, Ukraine on November 14.