Zydrunas Savickas: Still Not Sure About the '09 Arnold Strongman
Some strongman competitors are probably looking at it as potentially being their biggest Christmas present: Zydrunas Savickas might not be competing in the 2009 Arnold strongman contest.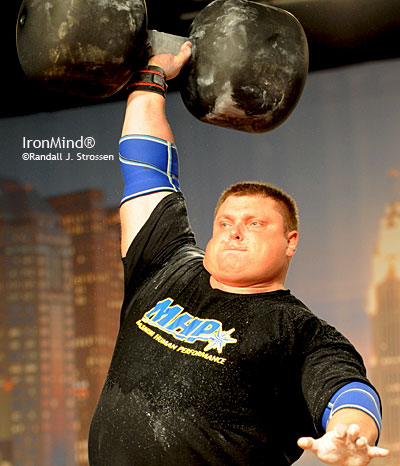 Zydrunas Savickas has had an unbreakable grip on the Arnold strongman contest, so if he sits out the 2009 competition, someone might think Santa Claus lives in Lithuania. IronMind® | Randall J. Strossen photo.

Zydrunas Savickas has got six Arnold strongman titles to his credit, a record that seems unlikely to be broken by anyone on the horizon, but the big man himself might be giving someone else a chance to leave with next year's title.

When he had merely won the Arnold strongman contest three times, Zydrunas Savickas seemed guaranteed a major role in strongman history, but when he pushed his record to six, it began to seem as if 1) the Big Z was going to win until he decided to quit entering and 2) he had established a record that might never be broken.

And right now, the door might be opening for the next winner of this prestigious strongman title, because Zydrunas Savickas is continuing to say that he has not yet decided whether of not he will be competing in Columbus next year:

"I am not decided yet," he told IronMind®. "I will decide later. Now I have just one plan, to have rest after a few years very intensive and hard seasons."