Zydrunas Savickas: Arnold x 7 Done, Ready for World's Strongest Man
Zydrunas Savickas has always spoken softly and carried a big stick: just when some were writing him off, he bagged his seventh strongman title at the Arnold in what appears to have been his warmup for the World's Strongest Man contest later this month.



Zydrunas Savickas pulled a world record 1,155 lb. (525 kg) on the Hummer Deadlift as part of his big win in Columbus last weekend, looking like he's more than ready for this year's World's Strongest Man contest. Photo courtesy of Aryn Lockhart–Strongman Rage


Big Z Wins the Arnold's Classic for the Seventh Time
By Aryn Lockhart–Strongman Rage

Zydrunas Savickas wins his 7th Arnold's Classic breaking deadlift and yoke records along the way. In the heaviest competition in the world, Savickas dominated—winning three of the five events. He overhead pressed the Austrian Oak log weighing 440lbs (220kg) four times; completed the record heavy yoke of 1,410lbs (650kg) in 3.87seconds; broke a world record of 1,155lbs (525 kg) deadlift. He tied with Burke, Shaw and Björnsson to complete four reps with the 274lb (124kg) Cyr dumbbell. Brian Shaw placed second overall and Mike Burke took third. This was likely an impressive preview for the World's Strongest Man coming up at the end of March.
The Arnold's Sports Festival also hosted its 4th Amateur World Championship Strongman Competition. The competition included four weight classes. The heavy weight women's weight class was added to the program for the first time this year. Sixty-six athletes from nine different countries participated in the heaviest competition of its kind. The American Strongman Corporation organized the event requiring American athletes to qualify based on the North American Nationals competition that took place in October. Winners included Alanna Casey (USA, Strongwoman Fitness); Kristin Rhodes (USA, Heavy Weight Women) - who broke a world record with her 250lb (113kg) overhead log press; Jon Alderson (USA, Strongman Fitness); Mateusz Kieliszkowski (Poland, Heavy Weight Men). The winner of the Heavy Weight Men's class will compete in the 2015 Pro Strongman competition at the Arnold's.

The competition was dedicated to the late Mike Jenkins who was the first winner of the Amateur Strongman Competition in 2010 and then went on to win the Arnold's in 2012. He became an international sensation placing fourth in World Strongest Man 2013.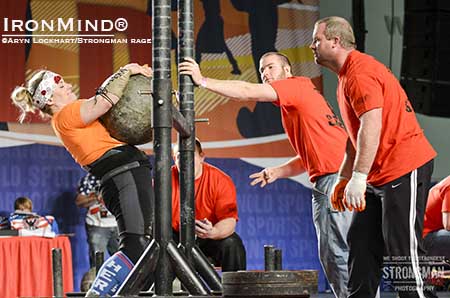 Alanna Casey: 75 seconds over the bar for reps with a 180-lb. stone. Photo courtesy of Aryn Lockhart–Strongman Rage

###



Want to talk strength? Join the IronMind Forum.

You can also follow IronMind on Twitter and on Facebook.