Zydrunas Injured, Vidas Blekaitis, Robert Kerney Win SCL Log Lift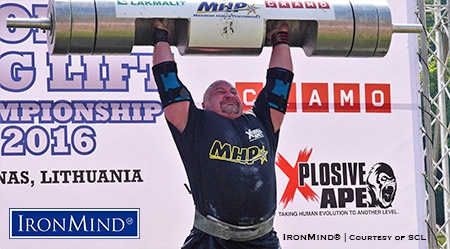 When a last minute injury caused Zydrunas Savickas to withdraw from the 2016 Log Lift World Championships, Vidas Blekaitis (Lithuania) and Robert Kerney (USA) seized the opportunity.






Lithuania and USA Win the SCL Log Lift Worlds
by Marcel Moster
MHP Strongman Champions League
 
Vidas Blekaitis and newcomer Robert Kearney from the USA won the MHP/SCL Log Lift World's 2016.

In a very nice sunny day in Kaunas, with a great stadium and a fantastic cheering audience, it was these two men who caused a sensation: With both hitting 202.5 kg, they  shared first place after 4 attempts. Vytautas Lalas (Lituania) could have ruined their party with an almost good lift on 205 kg. He was very close.
 
Marcos Ferrari from Brazil made a new national Brazilian record with 182.5 kg. Patrick Baboumian ripped his right tricep after he tried 180 kg.
Zydrunas Savickas injured himself just before, with a muscle in his neck. He expects it will be recovered soon. Therefore he could not compete, which was of course a pity for the world record holder, but for the contest of course it was very excited to see who would be number 1 in this crazy log lift battle and the 3rd stage of the MHP Strongman Champions League was again a hard one.
 
Final Results
 
Place:                                                                              Kg.                        Ranking points
1-2 Vidas Blekaitis           Lithuania                            202,5                   25        
1-2 Robert Kerney           USA                                     202,5                   18                                                     
3 Vytautas Lalas               Lithuania                            200                       15        
4 Dimitar Savatinov         Bulgaria                             195                       12
5-7 Dainis Zageris            Latvia                                 190                       10
5-7 Gregorz Szymanski   Poland                                190                       8
5-7 Graham Hicks            England                             190                       6
8 Bjorn Solvang                Norway                              185                       5
9 Marcos Ferrari              Brasil                                  182,5                   4           
10 Matjaz Belsak              Slovenia                             180                       3
11 Saulius Brusokas       Lithuania                             175                       2           
12 Patrick Baboumian     Germany (injured)            170                       1
 


The next stage will be 11 June in Holland, with stars as Vytautas Lalas, J-F Caron and Gregorsz Szymanski and Dainis Zageris at the start. 15 athletes will be there in a total over 6 events. It promises to be a great battle again, so stay tuned!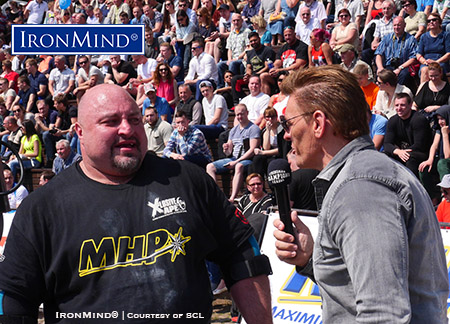 Marcel Mostert (right) interviews Vidas Bleikaitis (Lithuania) at the 2016 SCL Log Lift World Championships, where Blekaitis shared the victor with Robert Kerney (USA). IronMind® | Image courtesy of SCL


                                                       ###


You can also follow IronMind on Twitter and on Facebook.                        



Want to talk grip, strongman, weightlifting . . . everything strength? Visit the IronMind Forum.