Zlaten Vanev: No Quit in This Guy
He's the only lifter we know who has broken an arm on both the snatch and the clean and jerk, so when you talk quitters, this guy is not on the list.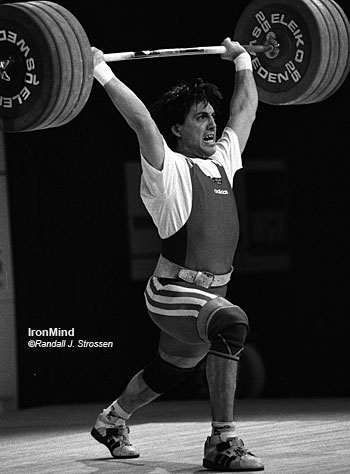 Zlaten Vanev (Bulgaria) nailed this 200-kg jerk to win the 77-kg category at the 1998 European Weightlifting Championships. On his next attempt, Vanev took 205.5 kg, and instead of breaking the world record, he broke his left arm. Two years later, while training for the 2000 Olympics, he broke his right his right arm on a snatch. IronMind® | Randall J. Strossen, Ph.D. photo.

Bulgarian Weightlifting Federation General Secretary Stefan Botev told IronMind® that Zlaten Vanev might be starting at the upcoming European Weightlifting Championships in Strasbourg, France so the guy who came back from a broken arm on a world record attempt in the jerk at the 1998 European Weightlifting Championships and was in super condition leading up to the 2000 Olympics - only to get derailed again when he broke his other arm in the snatch shortly beforehand - has not thrown in the towel.

Think about that when you're training this week.