Zhou Lulu Rules the Women's Supers
London—Big numbers were expected from the +75 kg class as the last women's category in weightlifting at the 2012 Olympics was contested this afternoon and the results speak for themselves: 13 Olympic and world records were broken, spanning the snatch, the clean and jerk and the total.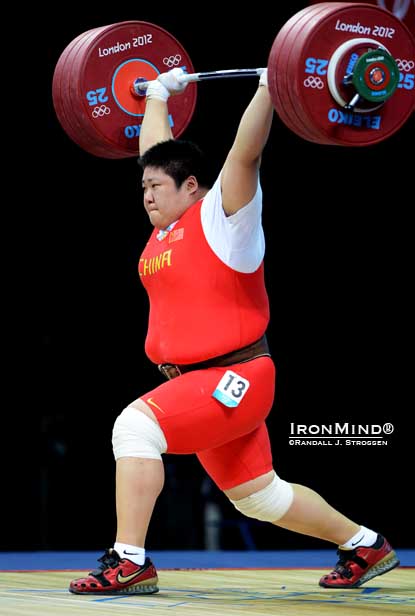 Zhou Lulu punched this 187-kg jerk overhead in what proved to be the gold medal lift in the women's +75 kg category at the London Olympics this afternoon. IronMind® | Randall J. Strossen photo.

Zhou Lulu (China) wasted no time getting the ball rolling as she broke the Olympic record in the snatch with her opener, 142 kg, only to have Tatiana Kashirina (Russia) do the same thing on her first attempt: 144 kg, and the duel was on.

Zhou Lulu couldn't fix 146 overhead on her second attempt in the snatch, but she came back to make it for another Olympic record—she jumps backs quite a bit on her snatches.

Kashirina decided it was time to get serious and she broke the world record (as well as the Olympic record) on her second attempt, as she ripped 149 kg, and seeing no reason to stop there, she did the same thing on her third attempt with 151 kg. Pfew!

Kashirina was six kg ahead of Zhou Lulu and she was lighter (by more than 28 kg!), so when she smoked 175 kg on her first clean and jerk, Zhou Lulu replied with 181 kg, to take the lead and break the Olympic record in the total. She destroyed the lift.

Kashirina took 181 kg on her second attempt, to regain the lead, plus get the Olympic and world record in the total. She made it, but it was clear that it was heavy for her and there might not be a lot left in the tank, unlike Zhou Lulu who mauled 187 kg, absolutely blasting the jerk—regaining first place, not mention breaking the Olympic record in the jerk as well as the Olympic and the world record in the total.

Kashirina called for the same weight, to regain the lead, but she only did a pull and didn't attempt to rack the bar, leaving her with the silver medal at 332 kg.

Game over, Zhou Lulu called for a massive 190 kg, but after racking it, she dumped it as she was trying to stand up, but not a bad night's work and final total of 333 kg.

With defending Olympic champion Jang Mi-Ran (Korea) far from the top of her game, former 75-kg lifter Hripsime Khurshudyan (Armenia) slipped in for the bronze medal with a 294-kg total.



###


Visit the IronMind Forum: talk strength, discuss this story. Strongman, grip, Highland Games, Olympic lifting, stones and more.

You can also follow IronMind on Twitter.