Doha - The 69-kg category saw members of the Chinese Weightlifting team once again sort out the gold and silver medals among themselves as the battle for top honors was waged between Zhang Guozheng and Shi Zhiyong.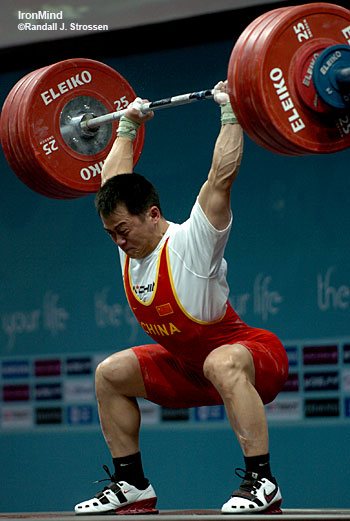 Zhang Guozheng squat jerks 184 kg to win the gold medal in the 69-kg category at the Asian Games today. IronMind® | Randall J. Strossen, Ph.D. photo.

Shi, the snatch ace, opened with 145 kg and stuck it; Zhang followed and made the same weight on his first attempt. Both lifters then made 150 on their second attempts. Zhang finished with a good 152 kg for his third attempt, while Zhi, knowing that Zhang is deadly on the clean and jerk, moved up to 155, which he handled easily.

Both of these lifters are squat jerkers, and Shi got into trouble when he tried to power jerk his opener, 175, which he lost. Zhang took the same weight, and squat jerked it with less than no effort. Shi came back to make an easy lift with the same 175 on his second attempt. Kim Sun Bae (Korea) was the only other lifter with any attempts left at this point, and after cleaning 180 kg on his second attempt, he dumped the bar. Zhang took the same weight for his second attempt, manhandled it, and moved into first place. Shi answered with the same 180 kg on his third attempt, making a nice lift which he had to walk with a little to save, but the effort pushed him past Zhang, for the moment. Kim took 180 again for his third attempt, and this time he missed the jerk behind. Zhang holds the world record at 197 kg, so you can imagine that he wasn't intimidated by the prospect of facing off with 184 kg for the lead and he made it pretty easily - clearly very happy with his win, Zhang celebrated with a cartwheel. Zhang Guozheng ended up with a 336-kg total, edging out Shi Zhiyong by one kg. Kim Sun Bae totaled 307, for the bronze medal.