Top strongman competitor and the defending US National Rolling Thunder champion Odd Haugen reported for his first day of therapy yesterday for the biceps he blew out earlier this summer.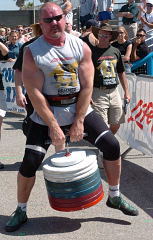 Odd Haugen shows why it's called the duck walk at the 2004 Battle of Muscle Beach (Venice, California). IronMind® | Randall J. Strossen, Ph.D. photo.

"You don't need any," the therapist said. Odd says he can already do everything with the injured arm that a normal person can. Of course, that's only a fraction of what the arm is used to doing, but we expect Odd to be back better than ever in the near future.