World's Strongest Man Rumor: Max Log Lift on the Program
Showing the interest generated by the show, speculation about World's Strongest Man 2010 details swirl well in advance of the official announcements, and now that the guessing game involving the location and dates of the 2010 edition of WSM has ended, and the primary players are known even if not yet announced, interest has shifted to speculation about the events.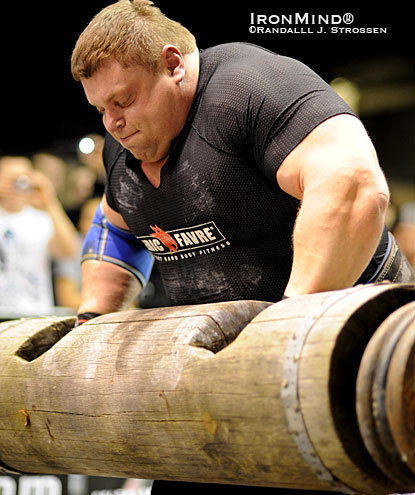 In the days of some of the biggest names in strongman history, a log lift in the range of 160 kg was world class. In Paris earlier this year, Zydrunas Savickas banged out 6 reps on a 160-kg log in less than one minute for a new Strongman Champions League (SCL) record. IronMind® | Randall J. Strossen photo.


A persistent rumor has been that you'd better be strong on the log lift this year if you want to win the title, and this was reinforced yesterday when a WSM insider told IronMind® pointblank, "If you want to be World's Strongest Man this year, then . . . train the heavy log."

At World's Strongest Man 1989, mighty Bill Kazmaier hit 165 kg and Jamie Reeves did 170 for the win, reversing their best lifts at World's Strongest Man the year before.

Time marches on, though, with a variety of factors changing along the way, and while nobody would claim that it was performed under clinically-identical conditions, Zydrunas Savickas has demolished the old world records in the log lift: His current best official lift stands at a whopping 212.5 kg, an SCL record, and if that's not enough to garner your respect, Zydrunas has a personal record in training of at least 220 kg.

So, as World's Strongest Man fans anticipate the 2010 contest, consider the very real possibility of a maximum log lift in the finals: Not just exciting in its own right, but certain to help determine who walks away with the biggest title in strongman, along with rewriting the World's Strongest Man record in the maximum log lift.


Want to talk strength? Join the IronMind® Forum!

You can also follow IronMind® on Twitter.