World's Strongest Man Experience: The Biggest Name in Strongman Set to Flex Its Muscles
In the strongman world, there are two brands - World's Strongest Man, and all others - and now the leader is about to flex its muscles.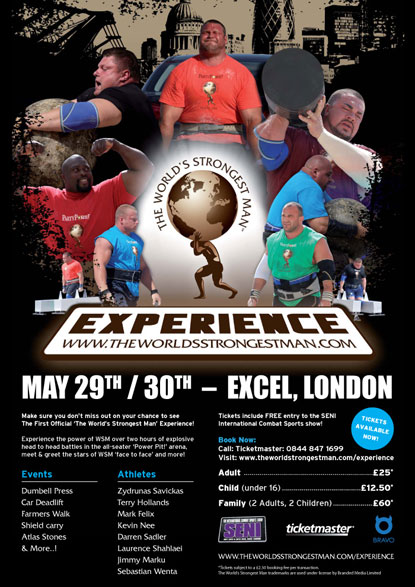 The World's Strongest Man Experience: Opening in London, May 29-30. IronMind® | Artwork courtesy of Branded Media/IMG.


Extending the brand and building on the established platform is how Branded Media commercial director Paul Murphy describes his mission, which is why, in a licensing agreement with IMG, Branded Media brought out the World's Strongest Man Thirty Years of Pain DVD, redid the World's Strongest Man website, introduced a line of WSM clothing and now is pulling back the curtain on what is going to rock the strongman world this year: the World's Strongest Man Experience.

"Extending in all areas of touchpoints for both the fans and the athletes," Paul Murphy told IronMind® is what this is about - meaning that the World's Strongest Man Experience will bring the heritage, the athletes, the events, and the buzz of World's Strongest Man to fans in a smaller setting designed to bring World's Strongest Man up close and personal. And with the added spontaneity that comes from having a truly live show, Paul Murphy told IronMind, the door is open for fans to do things like mingle with World's Strongest Man stars in a meet-and-greet environment.

The top names in the strongman world will compete head to head on well-established World's Strongest Man events, Paul Murphy explained, with the following athletes confirmed:

Zydrunas Savickas
Terry Hollands
Mark Felix
Kevin Nee
Darren Sadler
Laurence Shahlaei
Jimmy Marku
Sebastian Wenta

The events will include such favorites as the Car Deadlift, Farmer's Walk, Shield Carry and Atlas Stones - staged so that the competitors will go head to head, one pair competing after another. In addition, Mark Felix will try to smash the world record on the Rolling Thunder®, an attempt that will undoubtedly underline how this lift earned its name.

Svend Karlsen, a past World's Strongest Man winner himself, will be refereeing and helping with the hosting, Paul Murphy told IronMind®, which brings up a question: Besides lending his expert eye to the commentary, will the Viking be taking requests for [singing] his favorite Elvis songs?

IMG licensing manager Carl Lawrence is enthusiastic about this extension of IMG's relationship with Branded Media, which he said has proven to be a good partner as it has taken the World's Strongest Man brand name to new product arenas.

For ticket details, please visit: World's Strongest Man Experience.