World Weightlifting Championships: Zhang Jie Wins the 62s
Paris–With the heat on him, Zhang Jie won the men's 62-kg category at the World Weightlifting Championships.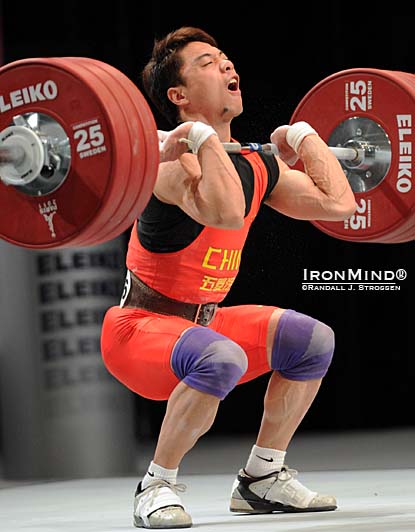 After racking this 176-kg third attempt clean and jerk, Zhang Jie is on his way back up—he made the jerk and won the class. IronMind® | Randall J. Strossen photo.


It was a switch from last year as North Korea's Kim Un Guk and China's Zhang Jie exchanged gold and silver medals in the total, but it all came down to the last clean and jerk.

Kim Un Guk was well in the lead after the snatches, having made 150 kg to Zhang Jie's 145, but he paid a price for his success as he came off the platform cradling his right arm after his third snatch and his team worked steadily on his elbow during the break.

Final places on the podium could easily have gone another way as both Oscar Figueroa (Columbia) and Kim Un Guk had 175 kg overhead in the jerk, only to lose the lifts as they were recovering. Adding to the drama, Zhang Jie, who was the heavier man, missed the jerk when he took 176 kg on his second attempt, going for the gold medal. He came back on his third attempt, the last lift in the class, for a golden success, totaling 321 kg to Kim Un Guk's 320.

Watch for another tight battle in London next year, as this class has all the potential bring things down to the wire.

Earlier in the day, Kazakhstan's Zulfiya Chinshanlo was sensational as she won the women's 53-kg class with a performance that included a 130-kg Senior world record clean and jerk that she knocked off pretty casually, even smiling and waving to the crowd before she stepped onto the platform for this attempt. This lift also gave Chinshanlo the Junior world record in both the jerk and in the total—and by the look of things, she's just warming up for London. Turkey's Aylin Dasdelen was also impressive, racking up a 219-kg total for the silver medal, with China's Ji Jing relegated to the bronze with 214.

###



Visit the IronMind Forum: talk strength, discuss this story. Strongman, grip, Highland Games, Olympic lifting, stones and more.

You can also follow IronMind on Twitter.