World Weightlifting Championships: Wu Jingbiao Wins the 56-kg Category
Antalya, Turkey–Outdueling his teammate, defending world champion Long Quingquan, gave China's Wu Jingbiao the 56-kg title at the 2010 World Weightlifting Championships last night.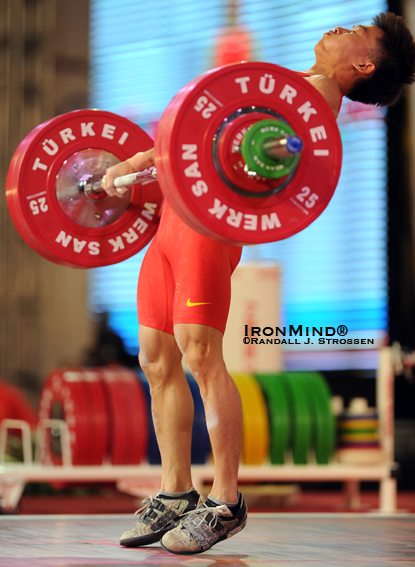 56-kg Wu Jingbiao cranks on this 132-kg second attempt snatch at the World Weightlifting Championships. IronMind® | Randall J. Strossen photo.


Big things had been anticipated from Long Qingquan, a junior who already has an Olympic gold medal and a senior world championships victory to his credit, but he got into trouble early as he missed a 127-kg snatch twice before coming back to make it on his third attempt. Cha Kum Chol (North Korea), on the other hand, marched through three good snatches: 123, 127 and 130 kg. Wu Jingbiao, bursting with his characteristic displays of confidence, ripped 128 and then 132 kg, before missing 135 kg on his third attempt. Vietnam's Hoang Anh Tuan had been expected to be a major factor in the hunt for medals, but this was not his night as he only made his opener, 123 kg.

Long Quingquan still seemed capable of doing something impressive as he had the senior world record jerk overhead at last year's world championships, and the thought was that maybe he would rally from his soft start in the snatch. After making 154 and then 161 kg, he took 166 kg in an effort to break the junior world record in the clean and jerk, but he missed the jerk. Wu Jingbiao swept through three good lifts—153, 157 and 160 kg—for the silver medal in the jerk, and Columbia's Carlos Berna, who had lifted earlier in the B session, earned the bronze medal in the jerk with 152 kg.

###


Want to talk strength? Join the IronMind Forum!

You can also follow IronMind on Twitter.