World Strongman Super Series: World Finals 2010
World Strongman Super Series has officially announced its 2010 World Finals, set for Swedish Grand Prix on December 12 in Gothenburn, Sweden.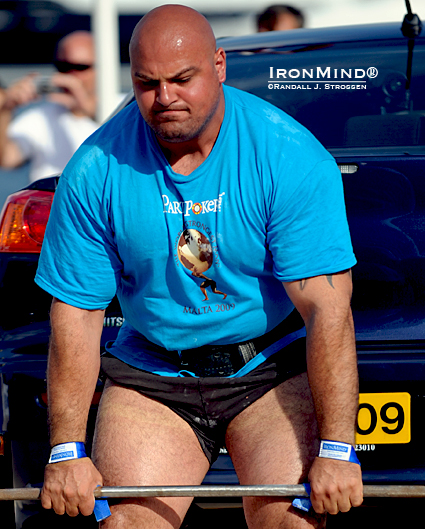 Laurence Shahlaei, shown in the finals of the 2009 World's Strongest Man contest, has been named to the starting list at the Super Series Swedish Grand Prix/World Finals. IronMind® | Randall J. Strossen photo.


Eight top strongman competitors have been named to the start list:
Stefan Berquist (Sweden)
Espen Aune (Norway)
Peter Rundberg (Sweden)
Nicholas Best (USA)
Louis-Philippe Jean (Canada)
Laurence Shahlaei (UK)
David Ostlund (USA)
Brian Shaw (USA)
This field may be reduced to six competitors for the final two events:

1. Log Lift: 150 kg for reps, from the ground to overhead
2. Super Yoke: 415 kg for time, 12 meter down, then back
3. Axle (1-1/2" diameter) deadlift: 410-kg for reps
4. Shield: 400-lb., for distance
5. Farmer's Walk: 175 kg/hand, 12 meters down, then back
6. Atlas Stones of Strength: 140 kg to 195 kg (five stones)

According to the official press release, "The World Championship belt and title will awarded the overall winner together, along with a bonus check of US$4,000."
More to follow.
###


Want to comment on this article or just want to talk strength? Join the IronMind Forum!

You can also follow IronMind on Twitter.