World Strongman Cup: Birthday Party for Glenn Ross
Set in Armagh, which is Ireland's oldest city, World Strongman Cup manager Martin Muhr said this weekend's competition is being promoted by Glenn Ross, who is also the birthday boy on May 27.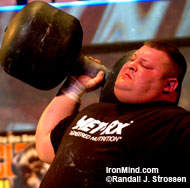 Glenn Ross was coming off injuries at this year's Arnold, but when he's healthy, he is one of the guys we would expect to put major pressure on the Circus Dumbbell. IronMind® | Randall J. Strossen, Ph.D. photo.
Martin Muhr said the starting field is: Svend Karlsen, Raivis Vidzis, Tarmo Mitt, Ralf Ber, Franz Beil, Glenn Ross, Francis Kirby, Terry Hollands, Andy Ciarney, Dominic Filiou and Dale Norris. The events are:

1. Squat: 280 kg for reps
2. Deadlift: for reps, two cars
3. Flag Hoist for time (this is like the giant fishing pole used at Muscle Beach)
4. Grip event, such as holding two cars for time
5. Medley: with an event called the "Railway Walk" (something like the Timber Carry used at the Arnold) and a stone carry
6. Apollon's Axle: for maximum weight