World Strong Man Super Series: New Scoring System for 2010
The Super Series has never been shy about breaking away from the herd when it comes to scoring strongman events, and this year the group is introducing a new system Odd Haugen told IronMind®.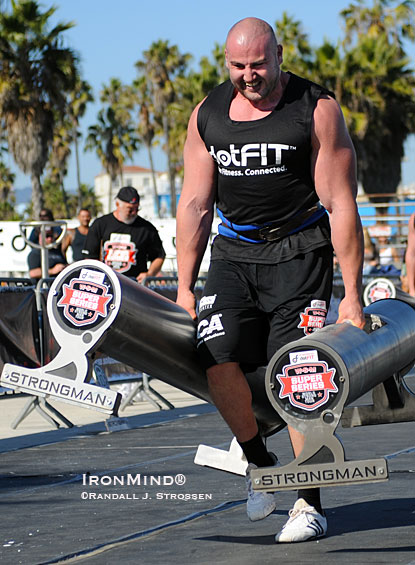 Stojan Todorchev (Bulgaria), shown at the 2009 dotFIT Super Series Muscle Beach Grand Prix, was second place overall in last year's Super Series. IronMind® | Randall J. Strossen photo.

Haugen, who is the chairman of World Class Events AB and an executive producer for the World Strongman Super Series, told IronMind® that, "The point system will change to 12 points for first place, 9 points for second place, 8 points for third place, etc., thus increasing the value of actually winning a Grand Prix in the 2010 season."

Super Series has a history of adjusting the scoring system as required, and while some of their changes have not been without controversy, the organization is upholding its tradition of broadly announcing the policy well ahead of time - so that there is no basis for claiming a last-minute surprise or change. Also, Haugen emphasized that this was not a capricious decision, repeating the underlying reason: "The change was made to give more value to winning a GP championship [contest]."

And talking scores, here is the complete list of the official final scores from the 2009 dotFit World Strongman Super Series:
| | | |
| --- | --- | --- |
| 1. | Brian Shaw | 27 |
| 2. | Stojan Todorchev | 24 |
| 3. | Nick Best | 21 |
| 4. | Jason Bergmann | 16 |
| 5. | Johannes Arsjo | 15 |
| 6 | Krzysztof Radzikowski | 13 |
| 7 | Marshall White | 10 |
| 7. | Terry Hollands | 10 |
| 9. | David Ostlund | 8 |
| 10. | Janne Virtanen | 5 |
| 11. | Paul Parjol | 4 |
| 12. | Rolands Gulbis | 3 |
| 13. | Peter Rundberg | 2 |
| 13. | Tarmo MItt | 2 |
| 13. | Stefan Solvi Petursson | 2 |
| 16. | Grzegorz Szymanski | 1 |
| 16. | Mircea Parjol | 1 |
| 16. | Jarek Dymek | 1 |