World Stone Putting Championships
Francis Brebner has filed this report on the 2008 World Stone Putting Championships.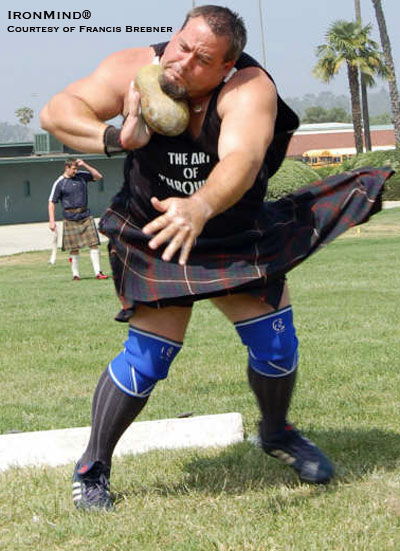 Ryan Vierra, who is nursing some injuries, has his eye on Pleasanton and Braemar later this year, not to mention Edinburgh next year. IronMind® | Photo courtesy of Francis Brebner.

World Stone Putting Championships by Francis Brebner

This year's World Stone Putting Championships, which was held in Campbell, California, included an outstanding line-up of athletes, including Ryan Vierra, a former title-holder in this event; the current World Stone Putting champion, Larry Brock; the formidable Dave Brown; Mike Pockoski; and Andrew Hobson.

The first event for our heavy athletes was the 22-lb. Braemar stone put. Vierra took top honours with a distance of 38' 4-1/2"; in second was Brock with 36' 11", and in third, Pockoski with 35' 8-1/2".
In the 56-lb. weight for distance, Brock triumphed over Vierra, with a throw of 42' 6", with Vierra close behind at 41' 6-1/2" and Brown in third with 39' 7".

In the 28-lb. weight for distance, again Brock dominated Vierra, with a throw of 83' 9", with Vierra having to settle for second at 81' 7", and Brown in the third spot with 76' 7-1/2".

In the 16-lb. hammer, Brock showed his top form, throwing the hammer 140' 1/2" for his third win of the competition, with Vierra again in second but still very close to Brock with a throw of 138' 5". In third was Pockoski with 126' 4".

In the 56-lb. weight over the bar, Brock again took his fourth event win with a height of 17' 6"; Vierra followed in second at 17', and Hobson in third at 16', rounding out the top three.

The next event was the caber, weighing in at 120 lb. and 20 ft. It was tossed by Vierra for a perfect 12 o'clock, which caused a quite a stir amongst the thousands of spectators as this caber has only been perfectly turned three times in the last decade and a half, Jim McGoldrick and Peter Gudmundsson of Iceland being the others who were successful with it. Brock took second on 11:30, and Brown third on 9:30.

Our final event of the Games was the 17-lb. World Stone Putting Championships. The Games Committee of Campbell, which included top international Highland Games judge Steve Conway of Scottish Heavy Athletics (SHA), made a change in the rules, allowing the top three stone throwers from the amateur Braemar competition to compete in the Championships at the end of the day. This was encouragement for the amateurs to be able to compete alongside some of their pro idols in the sport.

The top three amateurs in their combined stones totals and master (40-49 class) Ron McKee were invited to compete for the World Stone Putting title only. Their scores did not impact the pro marks for their aggregate totals, and they did not compete for the prize money. It made for an exciting competition. This change in the rules allowed Rusty Price of California to showcase his talent by putting with pros. Rusty, virtually a newcomer to the Games circuit, has been competing in the Amateur A Class for just over two years, and has been training under the watchful eye of Ryan Vierra in the past year.

I asked Vierra what he thought the outcome would be, and he said, "I would have to say Rusty Price . . . he is putting well over 55' in practice, and if he keeps his cool and doesn't let the pressure get to him, I think he may well go farther. I have been training him now for about a year or so and I see real potential in this athlete. I would go so far as to say that in the next few years, we could see him in the top ten ranking list in the USA."

As the competition got underway, Rusty Price spun out a first throw of 52' 11", which was to lead over both Vierra and Brock, who were trailing with 51' 11" and 48' 8" respectively. In the second round, Price hit throw of 55' 6"; Vierra and Brock did not improve, leaving Price in a turf patch of his own going into the third and final round. With no pressure, again Price increased his lead to 56' 8-1/2", and with no gains from either Vierra or Brock, the young rookie had taken his first world stone-putting title.

Asking Vierra about his own overall performance, he said, "I was very happy, especially with the hammer, but my problem is that it will take me at least two weeks to recover from an old re-surfacing shoulder injury, and this is why I am having to pull out of competing in this year's Highland Games circuit in Scotland, Ireland, and France."

A six-week stint in Europe had been prearranged, along with fellow American competitors Larry Brock and Sean Betz. Ryan said he was disappointed to have to pull out, as he was very much looking forward to this year's tour of Scotland again and competing against the best European throwers in the world:

"I had a bad start to the season earlier with a injury to my calf muscle, which I have fully recovered from, but now I have the shoulder problem, which is causing me real problems, especially when throwing the hammers. There is no point in making it any worse, and in Scotland we would be throwing them at least three to four times a week in various competitions.

"So I have decided to take some time off and rest up for a while, competing in just a minimal amount of Games this year, giving it a chance to heal, but later building up slowly and focusing all of my attention on the USA Invitational Championships in Pleasanton in late August. If all goes well, I will then consider heading over to Scotland to compete in the Royal Braemar Gathering.

"And just to put an end to talk that I am retiring - not just yet is all I can say - I have my sights set on competing in next year's World Championships in Edinburgh, Scotland and am already thinking out my new game plan."