Woo-seop Lee Certifies on the IronMind Red Nail
Continuing the tradition of South Korean success in short steel bending, Woo-seop Lee has just been certified on the benchmark IronMind Red Nail.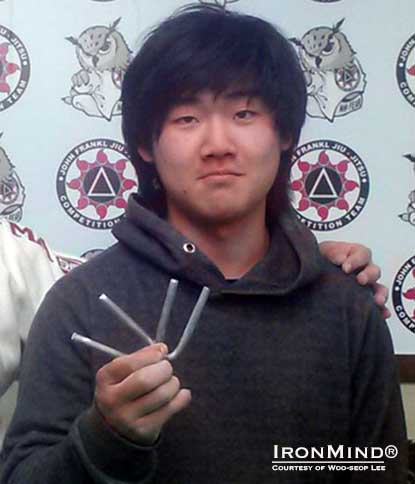 Woo-seop Lee's ability to bend an IronMind Red Nail is no illusion, as he holds two that he bent. IronMind® | Photo courtesy of Woo-seop Lee


With interests that include "armwrestling, crushing grip and yo-yo," Woo-seop Lee was a natural to add steel bending to his portfolio and two years into it, he has demonstrated his mastery of the IronMind Red Nail.

The 20-year old Woo-seop Lee weighs 80 kg and is 174 cm tall (176 lb./5' 8-1/2") and he trains for bending by bending once or twice a week and goes up close to his limit.

Many thanks to Dae Woong Lee for serving as the referee on Woo-seop Lee's official attempt and congratulations to Woo-seop Lee: it's official, you have been certified and your name added to the Red Nail Roster.

###



Want to talk strength? Join the IronMind Forum.

You can also follow IronMind on Twitter and on Facebook.