Doha, Qatar - If you wonder why the Chinese women are the wonder of the weightlifting world, consider that the winner of today's 58-kg class is only a junior and her lifts included a 139-kg clean and jerk.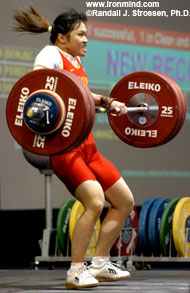 Gu Wei pulling herself under her 139-kg world record clean and jerk, for a junior and a senior world record. IronMind® | Randall J. Strossen, Ph.D. photo.
Former world champion Aleksandra Klejnowska (Poland) was an early casualty tonight, sending 91 kg up and over twice in the snatch, and when she moved up to 92 on her third attempt, the weight was on the same path again, but she fought and fought, still could not save the lift and she left the platform in tears. Gu Wei (China) also missed her first two snatches - 100 and 101 - but when she took 102 kg on her third attempt, for the gold medal and, maybe more important, to avoid bombing in the snatch, she made a very easy, very good lift.

Maybe white men really can't jump, but after watching this class, it would be hard to say that women can't jerk. Marina Shainova (Russia), who, along with Gu, is a junior, opened with 125 and she made it look like she was lifting an empty bar. Wandee Kameaim (Thailand) also took 125 for her first attempt and she showed her power by popping up the jerk with a narrow, shallow split. Klejnowska, who had double-bounced and struggled her way up with 120 on her opener, to jerk the weight as if she were a rocket launcher, took 126 on her second and the big question had to be whether or she'd be able to stand up with the weight - the answer was no, not that she didn't try and come close. Repeating with the same weight on her third attempt, Klejnowska only pulled it.

Gu came out for 130 on her opener, a mere two kilos under the junior world record and, with the help of using the bar wisely on the jerk, she made a very easy lift. Shainova took 132 on her second attempt, jumped back a couple of feet on the clean, popped the jerk - she's just strong and athletic. Kameaim also took 132 on her second attempt, and made another very nice lift with the same narrow, shallow split she had used on her opener. Shainova was up next, with 135 and a shot at the junior and senior world record in the jerk, but she couldn't get under the bar. No such problem for Kameaim, who followed with the same weight for her third lift - a great success with only a barely wider, deeper split than she used on her first two attempts. Gu followed with 136 on her second attempt for the junior and senior world records in the jerk, plus the gold medals in the jerk and the total, and she had no trouble making the lift. Why stop now? With hers being the last attempt in the class, Gu called for 139 - good for junior and senior world records in the jerk and the total, and with all those marbles on the line, guess who scooped them up, and got US$18,000 as a token of her outstanding performance tonight.

Imagine that: 58-kg junior women cleaning and jerking over 300 pounds?!