Winter Giants: Strongman Coming to Accrington, England
Winter Giants is set for December 13 in Accrington, England (north of Manchester), and the contest's organizer, Denny Felix, told IronMind® that, "Terry Hollands, [Mark] Felix, Jimmy Marku, Laurence Shahlaei, with 8 other British athletes," will be featured.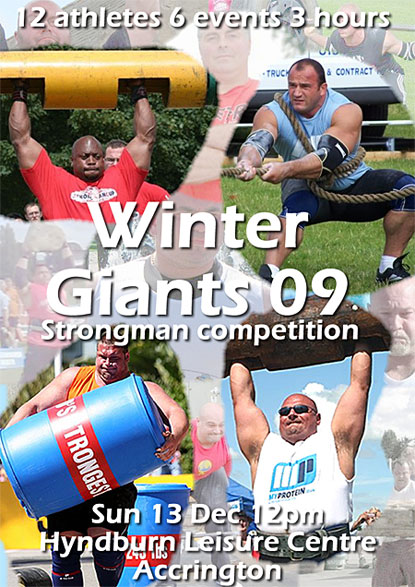 Winter Giants will feature the top British strongman competitors. IronMind® | Artwork courtesy of Denny Felix.

As for the events, Felix said, "We have a tyre & loading medley, log lift, farmer's walk, deadlift for reps Hercules hold & stones.

"I could go on . . . I'm very excited about it," said Felix. "People with prams have reserved front row seats, children will receive a goody bag, I have 10 stewards either oly lifters or strongmen . . . You name it, I've got it covered."

With seating limited to 400, there are not a lot of tickets left, but if you act quickly, you can still get one.

For more details, including ticketing, please email Denny Felix.