"The Winsum Highland Games this past weekend in Holland signaled the start of the Dutch circuit: Winsum is the first games in a series of eight that will take place in various locations throughout Holland where the athlete with the most aggregate of points will be crowned national champion of 2012," Francis Brebner told IronMind today.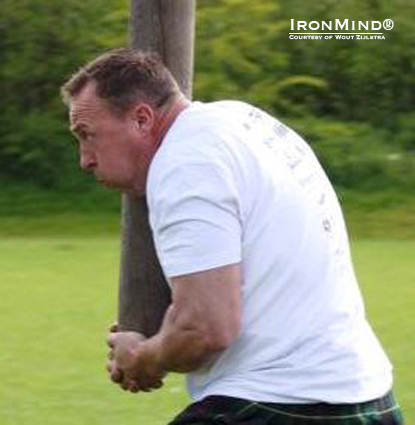 Hans Lolkema won the 2012 Winsum Highland Games. IronMind® | Photo courtesy of Wout Zijlstra.


"The series is headed up by Wout Zijlstra the IHGF affiliate and Representative for Holland.

Hans Lolkema got the win at Winsdum, "but he had to put up a strong fight against a very impressive line up of other Dutch athletes which included Jimmy De Walle, Pieter Karst Boma, Johan Langhorst, Raynor wortel, Dave Mossling, Kelvin de Ruiter, Wietze Rosier, Johan Bruinsuma and Sebastiaan Huijs.

"The opening event with the light hammer was a spectacular competition as the top three athletes went all out, with the win finally going to Belgium's Jimmy van de Walle with a new Belgian record of 37.91 meters.

"In the 28-lb. weight for distance, Pieter Karst took the win with a fantastic distance of 82' 6".

"The next event was the open 22-lb. Heavy Stone and Hans Lolkema secured his first win with a distance of 42' 7".

"The caber toss which was an incredible 6 meters in length and 176 lb. was won by Lolkema, theonly athlete to get a turn, with a toss of 12:05. 

"As this was the first games of the season, a 44-lb. weight over the bar was used; Pieter Kurst Boma won with 18' 6".

Overall top three:
| | | |
| --- | --- | --- |
| 1. | Hans Lolkema | 9.0 |
| 2. | Pieter Kurst Bo12.5 | 12.5 |
| 3. | Jimmy De Walle | 14.0 |
"President of the Holland Highland Games in affiliation with the IHGF Wout Zijlstra was very happy with the standard of throwing and gave special mention of Pieter Kust Boma and Jimmy de Walle, who put up a great overall performance against Hans Lolkema, the current champion, and expects a lot more from them as the season progresses," Brebner said.

###

The IronMind Forum: discuss this article, talk strength, get help with your training.

You can also follow IronMind on Twitter.