Weightlifting at the 2005 Arnold
Advancing each year, weightlifting will be on the main stage at the Arnold Expo for the first time next year.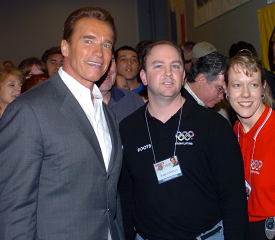 California governor Arnold Schwarzenegger with Columbus Weightlifting Club's Mark Cannella and Megan Tornstrom at the 2004 Arnold Expo. Governor Schwarzenegger and his partner in the Arnold Expo, Jim Lorimer, have been huge supporters of weightlifting at what is the world's largest fitness expo. IronMind® | Randall J. Strossen, Ph.D. photo.
Mark Cannella and Megan Tornstrom, of the Columbus Weightlifting Club, said that the tentative 2005 Arnold Expo schedule is for juniors and women to lift on Friday, and the open competition will be on Saturday, along with a Family Feud of Weightlifting, which will give such weightlifting dynasties as the Curry family an opportunity to strut their stuff. Sunday, the traditional East Coast - West Coast battle will be held on the main stage in the Exposition Hall.

This is a great place to see a great sport, so mark your calendars for March 4 - 6, and for all the details on tickets and everything else, please check the official Arnold Expo website.