Weightlifters Have a Big Day at Sac High
Sac High (Sacramento) is one of the reasons a tidal wave of weightlifting is rolling over Northern California, and yesterday's Werksan Springfest was another step forward for a program that thinks big.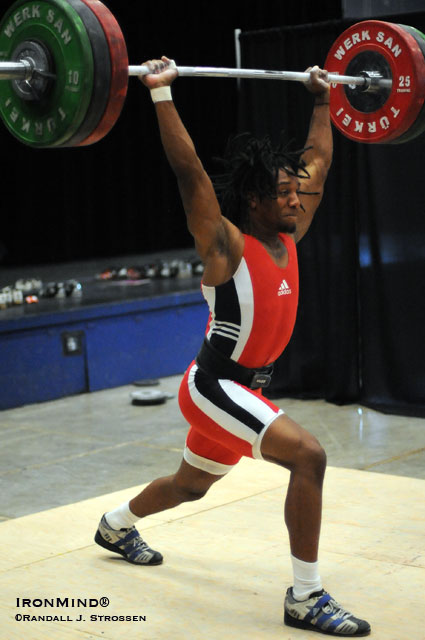 Keylin Mackey stuck this 152-kg clean and jerk as part of his perfect performance as an extra lifter at yesterday's Werksan Springfest hosted by Sac High. IronMind® | Randall J. Strossen photo.
Thailand Triumphs take Backseat to Werksan Fireworks...For a Day

By Paul Doherty
Hassle Free Barbell Club

In a week that has seen some impressive lifting from America's best youth weightlifters in Thailand, the local level of competition has not dropped a beat. Playing respectfully in their first internationals as now-legitimate weightlifters, Hassle Free's Sae Vang, Jenny Lam and Krislyn Li all shattered their personal bests at the first ever World Youth Championships held this week in Chiang Mai, Thailand.

While short six of its best local lifters, Hassle Free Barbell Club still managed to light the fire at yesterday's Werksan Springfest. Sac High played host to a full men's and women's team from East Coast Gold's Moorestown High School, as well as Lincoln High School of San Francisco and Florin High School of Sacramento. With very tight competition in many weight classes, the Sac High half of Hassle Free managed to win the overall men and women's team titles over the competition. The prize for the sweep? Fully loaded Werksan competition sets for each team that will proudly be added to the ever expanding weightroom.

Of special note for the women was standout Sac High senior Sydney Munsey, who broke the PWA Junior records in the snatch and total in a six-for-six performance that boasted lifts of 73 kg in the snatch and 94 kg in the clean and jerk, for a 167-kg final tally.

To give you an idea how deep the men's roster is at Sac High, look no further than 77-kg lifter Kyle Saelee. As if on cue, Kyle hit PWA records in the Jerk and total with lifts of 102 kg in the snatch and 132 kg in the clean and jerk for a 234-kg total. This outdistanced the top USA total in Thailand this week. If not for an unfortunate wrist injury, Kyle would have been in his second international competition since picking up a barbell just two short years ago.

Kyle's counterpart in the 85-kilo class, Clinton Johnson, was most impressive in the snatch hitting three perfect lifts and finishing with 112 kg. Clinton capped off his day with a 130-kg clean and jerk and close miss at 140 kg before taking home the gold in the 85s.

Also, lifting as an extra lifter, London-hopeful Keylin Mackey also knocked off six perfect lifts for a much improved total of 277 kg with 125 kg in the snatch and 152 kg in the clean and jerk. This 277-kg total would have put Keylin on the U.S.A. Junior World team if only done a few short weeks ago.