Even if you love backyard grip contests with four competitors and someone's pet implements, if you're serious about testing the horsepower in your hands, the GNC Grip Gauntlet is where you want to be - it's the proving ground for people who want to see just how strong their grip really is and who want to have a good time giving it their best shot.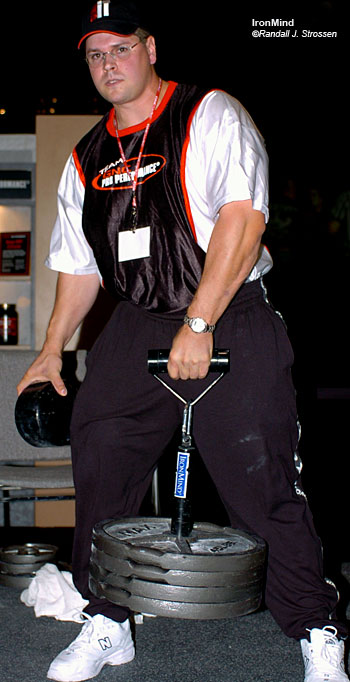 Wade Gillingham - Grand Master of the GNC Grip Gauntlet - will be hosting this fun, challenging event again this year at the FitExpo and at the Arnold. IronMind® | Randall J. Strossen, Ph.D. photo.
Ace gripster Wade Gillingham will be heading the GNC Grip Gauntlet at this year's FitExpo and at the Arnold, so whether you're just starting off or you're already into serious grip training and would like to see how you stack up against the best around, here's a chance to strut your stuff. It's also a chance to have some fun.

Using IronMind®'s Captains of Crush® Grippers and Rolling Thunder®, along with a Blob (the sawed-off end from a cast 100-pound York dumbbell), the Grip Gauntlet puts all competitors on level ground as it lets them pit their grip strength against three well-established, widely available standards, and with the number of people who have run through it, there can be no question that the GNC Grip Gauntlet is the numero-uno grip event in the world.

"The GNC Grip Gauntlet, in one format or another, has sampled the strength of over 10,000 men. With a worldwide reputation for its difficulty and a magnetic draw that keeps people coming back . . .," is how Wade Gillingham put it in the June 2006 issue of MILO® , where the history of the contest was profiled, along with the top results.

If you're going to be at the FitExpo or the Arnold, be sure to stop by the GNC booth and give the gauntlet a run for its money.