World Strongman Cup Manager Vlad Redkin told IronMind that he is all set to (re)open the 2007 WSMC season, with a contest set for Riga, Latvia on May 13.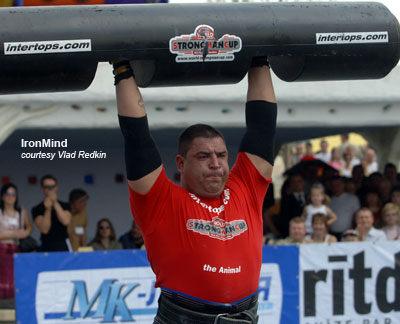 Local hero Raivis Vidzis, shown at the 2006 WSMC competition in Riga. IronMind® | Photo courtesy of Vlad Redkin.

"I have first stage in Riga!!," Vlad said, featuring six events: deadlift for reps (car), stone lift (five stones), front squat, yoke, Atlas stones (120 - 180 kg), tire flip (maybe with farmer's walk). This is the official start list:

1. Mark Felix (Grenada)
2. Mariusz Pudzianowski (Poland)
3. Terry Hollands (UK)
4. Rene Minkwitz (Denmark)
5. Raivis Vidzis (Latvia)
6. Tarmo Mitt (Estonia)
7. Antanas Abrutis
8. Elbrus Nigmatullin (Russia)
9. Ralf Ber (Austria)
10. Dominic Filiou (Canada)
11. tbd
12. tbd
13. tbd

Vlad also reported the followed WSMC contests for 2007:

July 1 - Moscow ( in exchange the Iranian stage )
July 22 - London
July 28 - Irkutsk, Russia
November tbd - Holland
June 23 - Dubai (possibly)

Addressing the concerns about the remainder of the season and moving forward, Vlad told IronMind®, "I have big reserve. WSMCF will have full list of stages and we will organize eight stages without any problems. Iranian stage was a little mistake; all normal men understand this."