It had rained the night before the last day of the 2006 MET-Rx World's Strongest Man finals and the gray skies that morning looked ominous.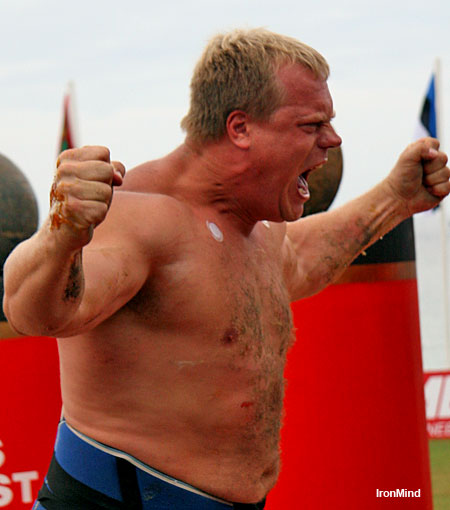 It came down to the last event: Phil Pfister won the stones and the title. IronMind® |

As the start time of the first event approached, the weather was improving, which is to say it was merely getting very hot with jungle-like humidity. The hope had been that the very last event, the Atlas Stones, would be run around noon, but for reasons dictated by the government, the start time was pushed back to 2:30 and by then, it was pouring rain. At about 3 p.m. the decision was made to postpone the event until 4 p.m., with the idea that the weather might clear up by then, but if not, the event would just have to go on anyway.

At least in some quarters, there was a feeling that rain favored Phil Pfister over Mariusz Pudzianowski in the Atlas Stones - a wet surface would reduce Mariusz's unquestionable advantage in foot speed, but the rain would also work against tacky, something that would hurt Mariusz more than Phil, especially given Phil's longer arms. As someone very close to the core said, "Somewhere, Phil is doing a rain dance right now."

It was still raining when the final event was getting underway, but when it came down to the final pair - Pudzianowski and Pfister - the pairing that would decide who would become the 2006 MET-Rx World's Strongest Man, and who would finish in second place, the rain let up.

Pudzianowski led Pfister through the stones, maybe by a second, but on the final stone, Pfister was closing the gap . . . would it be enough?

You can play 17 holes very well and the title might come down the final putt . . . sink it, which is what Pfister did, and you get the win, but miss it and you drop the title, which is what happened to Pudzianowski.

Emotions ran high after, with Bill Kazmaier summing up a common feeling: "The 24-year drought is over."

Somewhere, we hope that someone is telling Phil's mother-in-law what a smart lady she is.