WSM Janne Virtanen Enters Finnish Open Grip Strength Championships
"It´s now official," Sakari Selkäinaho told IronMind, "Janne Virtanen confirmed his entry to the Finnish Open Grip Strength Championships."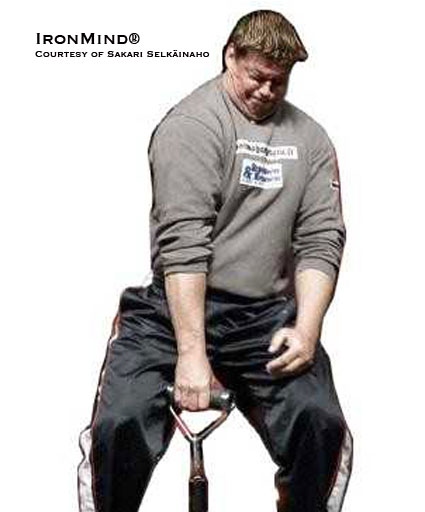 Janne Virtanen, 2000 World's Strongest Man winner, will be competing at Finnish Open Grip Strength Championships next month. IronMind® | Image courtesy of Sakari Selkäinaho.

One of the nice things about grip strength is that everyone can try their hand at it. Still, many if not most of the top performers in grip strength are strongman competitors and 2000 World's Strongest Man winner Janne Virtanen is far from a slouch in these two departments.

"Virtanen's grip power has been unbeatable many times on strongman meets," contest promoter Sakari Selkäinaho told IronMind, "and most recently, at the Rolling Thunder Europeans."

"At the Finnish Open Grip Strength Championships, we expect Janne to face more competition than ever before as there are four or five guys who can win this event" said Kimmo Kokko, who is known as the father of Finnish grip strength. Timo Tuukkanen, last year's champion Juha Harju, Jouni Pakarinen along with Janne Virtanen are among the favorites according to Kokko. "The gripster who has a good day is the best," Kokko said.

"I expect a strong battle between Janne Virtanen and Juha Harju, and the outcome depends mostly on who does best at his weak events." says Sakari Selkäinaho.