WSM Finals: Zydrunas Savickas Breaks Log Lift World Record
Commerce Casino, California–In temperatures of about 100 degrees, the 2012 World's Strongest Man finalists didn't take long to add some heat of their own: in the second event today, Zydrunas Savickas did a 220-kg log lift for a new world record.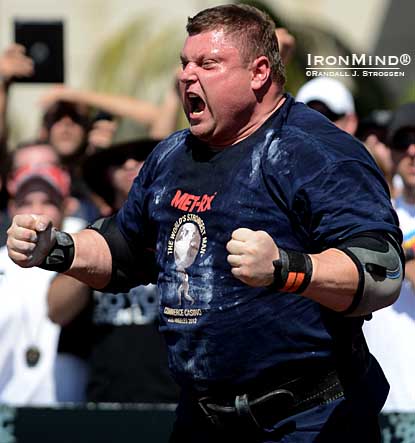 Usually reserved, Zydrunas Savickas celebrates his 220-kg world record in the log lift set today at the World's Strongest Man contest. IronMind® | Randall J. Strossen photo.


The action started today with the Yoke Race, which was won by defending WSM champion Brian Shaw. Savickas put the pedal to the metal in his own way in the next event when he broke the world record in the log lift—Mike Jenkins had a close miss at the same weight and the rumor was that if both men had succeeded, the next weight would be 227.5 kg, to break the 500-lb. barrier. The day ended with the Bus Pull, smoked by Terry "The Marlboro Man" Hollands.

Although unofficial, it is being widely reported that Vytautas Lalas leads after the first day, with Mike Jenkins, Zydrunas Savickas and Brian Shaw, each separated by one-half point, chasing after him.

World's Strongest Man is being filmed for broadcast around the holidays—watch the WSM website for program times as well as details on official merchandise.

###



Visit the IronMind Forum: talk strength, discuss this story. Strongman, grip, Highland Games, Olympic lifting, stones and more.

You can also follow IronMind on Twitter.