WSM Finals: Felix and Pudzianowski Lead
Sanya, China - Mark Felix was the pre-event favorite for the car deadlift for reps, the first event in the 2006 MET-Rx World's Strongest Man finals, although there was a feeling that Mariusz Pudzianowski could get top honors.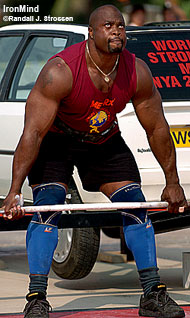 Mark Felix on his way to 16 reps in the car deadlift, the first event in the 2006 WSM finals. IronMind® | Randall J. Strossen, Ph.D. photo.

As it turned out, both theories were right, as Felix and Pudzianowski tied for the lead with 16 reps. Dymek finished third, with 13 reps, and it appeared that he did just enough to push ahead of the three guys who did a dozen reps: Pfister, Vidzis, and Hollands. Mitt finished with 9 reps, followed by Wenta and Toczek, both of who did 8. Pope gave everyone a good scare, grabbing his chest after doing one rep - he will be examined closely, but the word from the field was that it might have been something as simple as indigestion.

Asked what he thought of Pfister's dozen reps, Bill Kazmaier gave the West Virginia fireman a huge compliment, saying, "He learned to deadlift overnight."